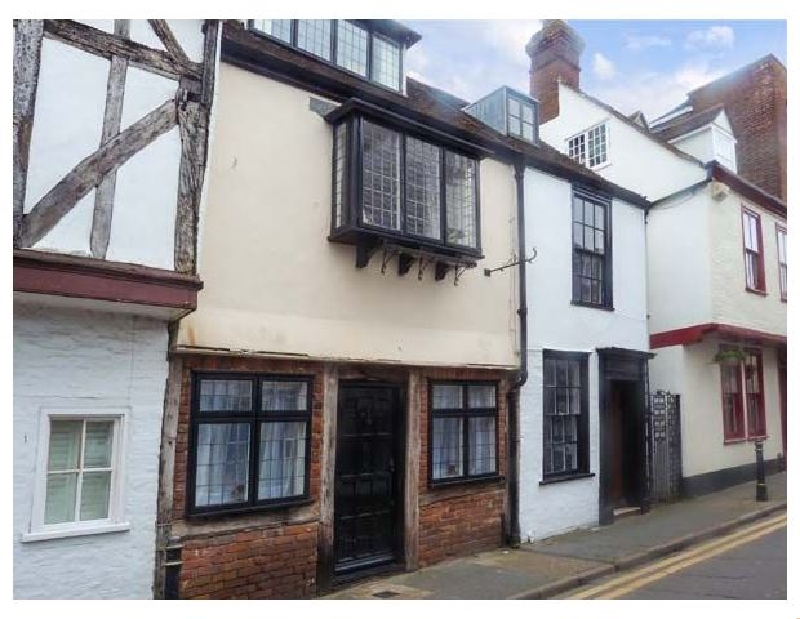 In November I had a big birthday to celebrate and did so in style staying in a quirky 15th century cottage right in the middle of Canterbury.  One of the previous owners of the property was Nat Field, an actor and dramatist who would have been a contemporary of Marlowe and Shakespeare. His father, John Field, was a puritan who disapproved of all the entertainments his son was involved in.  Apparently Nat was a bit of a ladies man who led a wild life and may have fathered a child with the Duchess of Argyll.  His name appears as one of the actors in the 1623 First Folio of Shakespeare's plays. He may well have replaced Shakespeare when he joined the King's Men in 1616.  Like Shakespeare, he spent most of his life in London, presumably retiring to Canterbury, although details are scant, apparently he was forced to quit the stage after a scandal.  A facsimile of his portrait watched us from the wall in the bedroom in that eerie way that old portraits do, the original is in the Dulwich Picture Gallery and is impossibly romantic in that wild haired piratic way that a young Shakespeare and Marlowe are depicted…  Christopher Marlowe, son of a Canterbury shoemaker, is probably one of the most lauded connections and the cottage was a minute away from the stupendous Marlowe Theatre.  So little seems to be known about Nat Field beyond his professional life, he feels ripe for the picking for any budding novelists out there.  Susan Cooper, in her children's novel, King of Shadows, features Nathan Field as a character. Set in 1599, it uses Field's background as a student of Richard Mulcaster's at St Paul's as a springboard. The Nathan Field in the story, who briefly works at Shakespeare's Globe Theatre, is actually a like-named boy from 1999, who has switched places with the young Elizabethan actor.  As you can tell I became rather besotted with the romance of all this!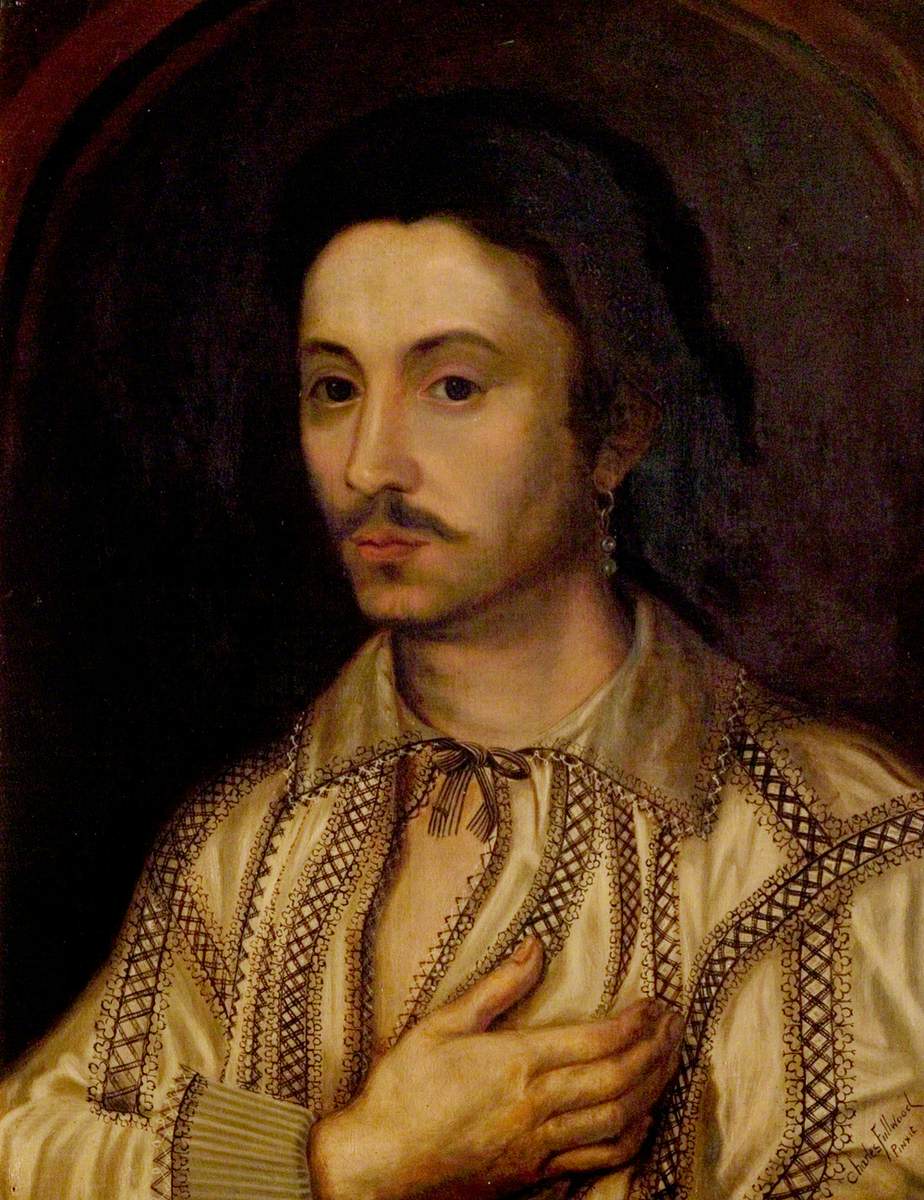 The current owner is also an actor and the cottage was festooned with theatre posters, TV scripts (he was in The Bill for many years) and original artwork.
Canterbury has connections with so many literary figures, including Rupert Bear!  Mary Tourtel lived all her life in Canterbury, creating Rupert in 1920 for the Daily Express.  Rupert was conceived as a rival to Teddy Tail, who was the star of a popular comic strip in The Daily Mail.  When Tourtel's eyesight deteriorated too much to continue with her illustrations in the 1930s, Alfred Bestall was her replacement.  I adore Rupert.  We have two framed snowy scenes from a Rupert calendar which come out every Christmas as part of the festivities and a framed Bill Badger scene in our porch!
Chaucer succeeded in putting Canterbury on the map early on with The Canterbury Tales, written between 1387 and 1400 and available in a printed edition from 1476.  The reader follows a group of pilgrims from Southwark to Canterbury where they are to visit the tomb of the martyred Bishop, Thomas à Beckett.  Their individual tales told in the inns they stay in along the way form the narrative.
Aphra Behn was born just outside Canterbury.  She was one of the first English women to earn her living as a writer although, before she became a poet, translator and playwright she was a spy in Antwerp for the Court of Charles II!   Just as little is known about Nat Field, or even Shakespeare, and the true nature of Marlowe's death, Aphra Behn is also somewhat of a mystery.  Her biographer, Janet Todd, laments, "she has a lethal combination of obscurity, secrecy and staginess which makes her an uneasy fit for any narrative, speculative or factual. She is not so much a woman to be unmasked as an unending combination of masks."   I do love a shadowy figure that allows space for speculation!
Dickens knew Kent well.  In addition to his London residence, he had a house just outside Gravesend, Gad's Hill Place, for the last fourteen years of his life and had spent much of his youth in Kent.  Legend has it that he had always coveted the house, which he had seen on country walks with his father, and he expresses this in The Uncommercial Traveller, a collection of literary sketches and reminiscences:
"Bless you, sir," said the very queer small boy, "when I was not more than half as old as nine, it used to be a treat for me to be brought to look at it. And now, I am nine, I come by myself to look at it. And ever since I can recollect, my father, seeing me so fond of it, has often said to me, 'If you were to be very persevering and were to work hard, you might some day come to live in it.' Though that's impossible!" said the very queer small boy, drawing a low breath, and now staring at the house out of the window with all his might.
Still from Daved Lean's 1946 film of "Great Expectations":
Dickens wrote Great Expectations in his Kent house, penning some wonderfully evocative descriptions of the marshes:
The marshes were just a long black horizontal line … the river was just another horizontal line, not nearly so broad nor yet so black, and the sky was just a row of long angry red lines and dense black lines intermingled …The dark flat wilderness, intersected with dykes and mounds and gates, with scattered cattle feeding on it…the low leaden line of the river…and the distant savage lair from which the wind was rushing, the sea…
I am used to marshland as we have a lot of saltmarshes in North Norfolk, but the Kent marshes seem bleaker and wilder and Dickens captures this desolation and isolation so well.  The marshes between Whitstable and Faversham seem unchanged since Magwitch leapt out and terrified poor Pip.  Part of the Thames Estuary they used to stretch right up to Westminster and have been drained and embanked since the 12th century.  One of my favourite days out during our week away was a trip to Faversham and a long loop into the countryside and back along the saltmarsh.  The town is full of medieval buildings, breweries and quirky shops but one of the sights that interested me most of all was
the Cardox factory (left), which opened in 1924 and was part of Faversham's once extensive explosives industry.  Today it looks derelict, but the sheds are still in operation and are deliberately flimsy and far apart from each other to prevent fires spreading and to allow easy rebuilding should an internal explosion occur.  Closer to Faversham town is the Chart Gunpowder Mill, the oldest of its kind in the world. Ships would transport the gunpowder along the creek and out via the Medway and Thames to the royal arsenals at Chatham or the Tower of London. You could even argue that the Battle of Trafalgar in 1805 was won in the gunpowder factories of Faversham. Nelson's ship, HMS Victory, carried 35 tonnes of powder to supply its cannon. I like pretty places but find myself drawn much more to traces of industry and spent ages peeking through the fence at these tumbledown sheds!
Faversham Creek was bleak and beautiful on the very cold and windswept day when we did our walk.  Daniel Defoe, a customs officer, knew Faversham well, stating in 1724,
"in the arts of that wicked trade the people hereabouts are arrived at such a proficiency that they are
grown monstrous rich."
The "wicked trade" is, of course, smuggling.
As we got closer to Faversham on our looping walk we had to cross a small wooden bridge over Cooksditch Stream into Ironwharf Boatyard.  On the other side of the bridge was a very welcome mirage, Quint's Retreat.  This tiny vintage caravan, run by a cheery lady, supplies tea, cake, bacon butties and toasties to dogwalkers, boatbuilders and very cold tourists.  It's named after Robert Shaw's character in "Jaws" and was totally unexpected.  The boatyard housed some real treasures alongside decommissioned goods wagons which were stranded when a section of the railway track was dismantled.
Faversham's architecture is outstanding and another of my favourites was this magnificent warehouse (below) which stored locally grown hops ready to be transported up the creek to the London Hop Exchange.  My mother's family were East Enders and, during the war they spent a lot of time living in Kent hop huts, bringing in the harvest and part of their evacuation duties.  My aunt remembers the whole family living in one hut with all the kids joining in at harvest time and my Nan sitting in state ready to receive the hopheads.
There was so much more to explore in Faversham, such as the remnants of the once thriving brick industry and the priory and abbey vestiges.  The four-mile walk took us all day to complete and it felt as if there was much more to discover in Faversham's layered history.
Another passion of mine is run-down seaside places.  Fortunately, we were a stone's throw from the coast as I start to pine if I can't get to the sea regularly.  As well as a brilliant trip to Whitstable we also walked from Margate to Ramsgate.  I'd love to go to Dreamland, Margate's vintage theme park dating back from the end of the nineteenth century when an entrepreneur reclaimed it from the saltmarsh.  It's changed a lot since then, of course, and its current status is a little hazy.  We could see into the site from our train to Margate and it looked fantastic.  The boards around the site contain some wonderful artwork combined with the memories of locals:
As the text is a bit blurry, but also totally brilliant, I've transcribed it here:
"My best birthday my Mum made me a cake in the shape of a thatched cottage."
"When the candles were lit, the shredded wheat roof caught fire and my Dad drove a toy fire engine in NEE NAW NEE NAW! and poured water on!"
The town itself is a strange mixture of decrepit and genteel and all the bits in between.  Tracey Emin clearly had a large part to play in putting Margate back on the map from its heyday as a popular seaside resort.  Over Droit House, one of the most distinctive buildings on the seafront, is Emin's neon artwork "I never stopped loving you," her love letter to the town where she grew up.
T S Eliot wrote part of The Wasteland in Margate.  There's a really interesting article here:
https://www.theguardian.com/books/2009/nov/09/ts-eliot-waste-land-margate
And a great quote in the waiting room/toilets area of Margate Station:
"My name is only an anagram for toilets."
T S Eliot
As we walked along the front for our walk to Ramsgate we were surprised to see a figure seemingly standing in the sea as the waves washed over his head.  A bit of zooming and googling with phones and cameras showed that it was, in fact, one of Anthony Gormley's  Another Time cast iron figures (number 23 out of the hundred cast, to be precise).  They have been placed all over the world and are very similar to the Another Place figures, again 100 in total, all facing out to sea on Crosby Sands.  It felt as if one of these figures had waded round the coast until it came to rest in Margate.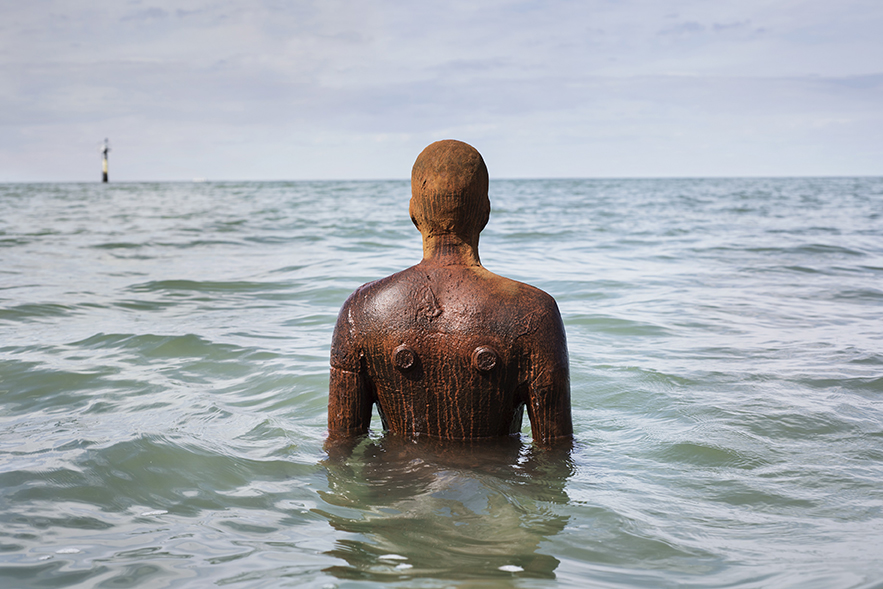 The walk to Ramsgate was splendid.  One of the highlights was this amazing chalk arch on Kingsgate Bay on the way to Broadstairs.
And another highlight was Broadstairs itself with its distinctive bay and Dickens connections.  I spent a couple of years in Broadstairs as a very young child and have very blurred memories of it, I think I was about eighteen months old or younger when we arrived and getting on for four when we left.  But I'm sure I remember Morelli's and who wouldn't?  It's an institution and provided a great rest-stop for the final leg of our walk.
Canterbury was a great base and we explored the town and Cathedral thoroughly, but it was the harsh landscapes of the Kent coast and countryside which really spoke to me.  I'm sure there are poems brewing, particularly from the weird and wonderful sculptures, found pieces I snapped along the way!