So, first of all apologies for the radio silence… my only excuse being that I didn't realise how exhausting it would be to have two books out at once!  Do please, persuade all your friends to buy copies of Lumière and In the Kingdom of Shadows – poets are expected to do their own publicity/marketing to a certain extent and it's hard to self-promote constantly (visions of people hiding behind pillars…)
I've been thinking a lot about good places to write recently.  Writers' Forum magazine have regular features on successful writers and their writing spaces, most of them are large, rather impersonal offices so I guess being a poet and having only short pieces of writing to rest on my knee means that I seek inspiration very much out of my office space (which I associate with my freelance creative writing and film studies business).  My places to write often feature watery views and my second pamphlet, The Saltwater Diaries, (due out at the end of the year) was  mostly written during the transition period when we moved from King's Lynn to East Runton, from an urban to a seaside environment.  I'm clearly not the only one to find watery places inspirational…
My oldest friend and I are celebrating the fact that we've known each other for fifty years, since our first year at Junior School, and we are trying to do lots of lovely things to commemorate the occasion.  At the beginning of April we went to Devon for a week and one of my favourite outings was a double dose of National Trust properties.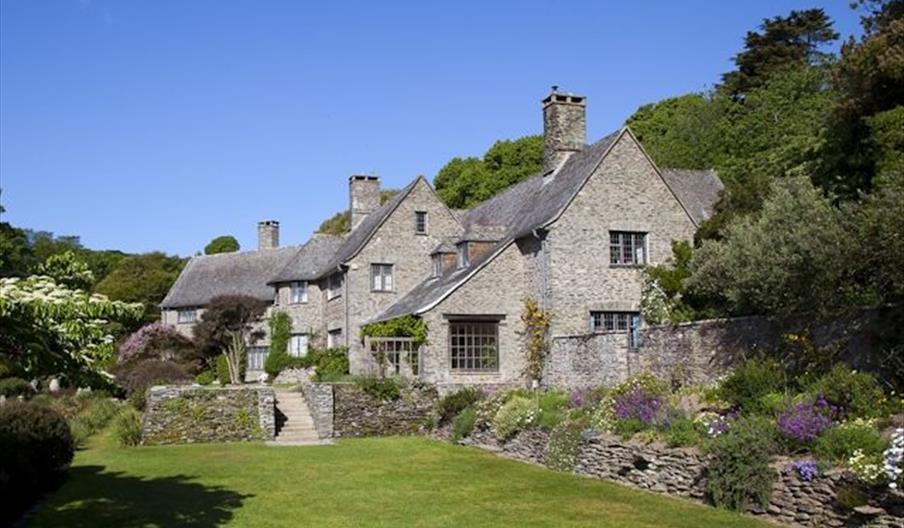 First stop was Coleton Fishacre which Rupert and Lady Dorothy D'Oyly Carte built, partly on the proceeds of the D'Oyly Carte family's success with the Gilbert and Sullivan operas.   A beautiful and inspirational place, the house is a 1920s masterpiece with grounds meandering down steep cliffs to Pudcombe Cove.  Guests would excitedly consult the tide times the butler would indicate on the special hall clock every morning.  An evening swim in the tidal pool at the cove would be punctuated by a bell rung from the house to call people back up for pre-dinner cocktails.  I don't know if Gilbert and Sullivan ever wrote anything there, or even visited, but it would be an idyllic place to write.  So many nooks and crannies, trees bursting with blossom, a brook running through the grounds, sea views from every room…
The interior evokes the jazz age with art deco touches.  We were particularly taken with the cigarette cases full of sobranie cigarettes and the rather wonderful cocktail shakers as well as this superb cocktail cabinet.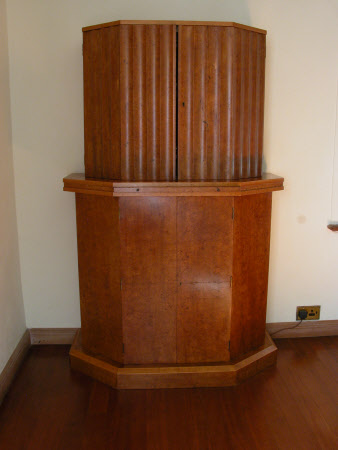 We made do with a bottle of Espresso Martini from Lidl and some cocktail glasses from a charity shop in Babbacombe, accompanied by a re-run of The Murder of Roger Ackroyd featuring the inimitable David Suchet as twirly-moustached Poirot.  Why Poirot and not a CD of Gilbert and Sullivan?  Because our second property was Agatha Christie's beloved Greenway overlooking the River Dart.
This property was such a contrast to Coleton Fishacre where each room is set up as if an extremely tidy person has just left it, there might be a tennis racket in the corner, a beautiful nightgown on the bed or a vintage book open on the side table.  Agatha Christie's house was the polar opposite,  full of the clutter of two avid collectors, cabinets of china and silver, walls full of prints and artefacts from Max Mallowan and Agatha's archaeological trips abroad which inspired Murder on the Orient Express and Death on the Nile.  A big, beautiful, rambling house and certainly full of interest, but the fact which most suprised and fascinated me was that Agatha Christie would have a pot of Devonshire clotted cream at her side to dip into as she wrote and, as a teetotaller, instead of having wine with her dinner, she would sip double cream.  Apparently she also tried desperately to become a smoker as this was such a popular pastime, but never quite got into the habit!  I'm rather partial to a scone with jam and clotted cream, but I can't imagine seeking inspiration to quite the extent Agatha did!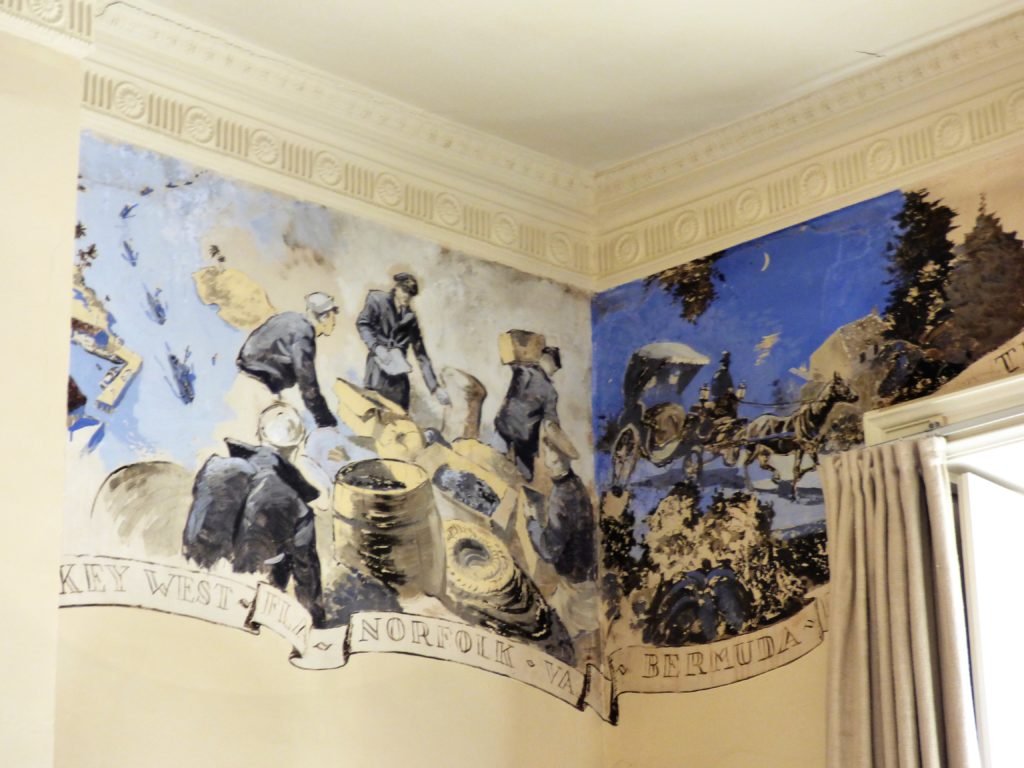 The Library at Greenway features an unexpected treasure, a frieze painted during World War Two by Lt Marshall Lee, a member of the US. Coast Guard stationed at the house in the run up to the D Day landings. The commander wrote to Agatha offering to have the fresco painted out when the house was returned to the family, but she hurriedly wrote back that it would be a historical memorial which she would be delighted to keep.  It's a beautifully executed account of particular moments in the war and it's good to see what amounts to classy graffiti preserved in such a grand house!   When the house was  first requisitioned it was  used to house child evacuees.  It must have been extraordinary to be surrounded by such natural beauty when you had come from an urban home, for the grounds at Greenway are stunning and even contain a pet cemetery for Agatha's beloved dogs.  You can walk down to the boathouse where Dead Man's Folly was set and admire the wide and beautiful River Dart with stunning views of Kingswear.  I'm sure Agatha wrote more fluently and concocted even better mysteries thanks to Greenway.  This beautiful Georgian property continues to inspire with regular writer-in-residence programmes (the current is J R Carpenter).  This year the Trust is highlighting the curiosities in Max and Agatha's collection and providing a writing prompt for a chosen object each month  – so pens out everyone!
https://www.nationaltrust.org.uk/greenway/features/greenways-cabinet-of-curiosities
So here I am, back home in East Runton and although I'm not fixated on double or clotted cream I have to admit that both my favourite places to write locally do involve food… I'm not averse to popping down to the beach with my notebook and sitting on a rock listening to the waves, or strolling up the beach to watch the sun go down, but there's nothing like a cup of coffee at the Rocket House Café in Cromer, practically on the beach and with fabulous views of the Pier.  I've written countless first drafts there and polished quite a few later drafts too.  On a warm day I like the Reef Stop café on the promenade going towards Cromer. Noisy and full of hot, tongue-lolling over-excited dogs, it's a great place to have a cheese toastie and absorb everything going on.  It's always a wee bit breezier on the beach than inland so juggling napkin, notebook, pen and toastie in the wind can be a challenge!
I do have an inspirational place which isn't by the water.  I occasionally teach for Gaynor Clements at her gorgeous farmhouse in Elsworth which is the home of the Cambridge Writing Retreat.  I usually go up the night before and stay in Gaynor's charming shepherd's hut.  I always manage to do a bit of focused writing to get myself in the mood for the next day's teaching, which takes place in the cosy farmhouse kitchen.  Go here for details of Gaynor's tutors and courses: https://www.cambridgewritingretreat.com/samplemenu
I'm a huge fan of the Aldeburgh Poetry Festival which takes place every November and means this small Suffolk coastal town is swamped with crowds of poets – all friendly, open and eager to learn from each other's performances and readings.  I must admit I haven't yet written a successful poem in Aldeburgh, I'm always far too distracted.  I've been to some great workshops – last year I was lucky enough to go to both Jean Sprackland and Pascale Petit but, despite excellent tuition, over-excitement is not good for a poet's brain (not this one anyway!) – too many new people to chat to and far too many brilliant poetry books to buy!  Poet Paul Stephenson curates the weekends expertly.  In 2018 my highlights were hearing Meryl Pugh read; having a go at translating a poem from Greek to English with Claire Pollard and Kostya Tsolakis; and last but not least in a weekend packed full of great events, the Queer Studio reading with Mary Jean Chan, Richard Scott, Alice Hiller, Danne Jobin, Swithun Cooper and Caleb Parkin.   I was involved in a really interesting session organised by Ambit Editor Bryony Bax and Fenland Reed editor Elisabeth Sennitt Clough in which we discussed the thorny issue of submissions and gender.
Between readings it's good to clear some headspace by stomping along the shingle beach in the wind to Maggie Hamblin's beautiful, and controversial, 12 foot high scallop shell sculpture in honour of Benjamin Britten.  I've already booked my accommodation for this year's festival and can't wait to see the programme, watch this space as 8-10 November 2019 gets closer!
https://www.poetryinaldeburgh.org/
As well as running regular writing workshops on all genres, I've also started offering mini writing retreats upstairs at Carberry's Café in Norwich (Wensum Street).    This sitting in cafés mularkey by yourself is all very well, but it's very difficult to motivate yourself effectively for a sustained period of time.  These mini writing retreats quite special days as, although they are untutored, the fact that I am present seems to wield an invisible discipline and help people to keep going.  We usually start with a bit of focusing and mindfulness before each participant moves to their own spacious table with views down the pretty street from a huge picture window.  The café staff will bring any drinks or food you want and run a tab for you so you don't even have to disturb your writing with such mundanities as getting your purse out until the end of the day.  I organise a prompts table full of objects, articles, books and ideas just in case anyone gets stuck.  I'm there all day for advice sessions and generally get to see everyone twice.  The first time I did this the atmosphere was extraordinarily concentrated, one poet tidied up twelve drafts and created a new poem!
Now, to return to Agatha Christie – not only did she have a predilection for cream, she also ate apples in the bath while envisioning her murder mysteries… but she clearly isn't the only writer with strange habits.  Charles Dickens always slept facing north, he believed it helped his creativity.  John Steinbeck needed two dozen perfectly sharpened pencils on his desk.  Virginia Woolf wrote like a painter, standing up and stepping back to get a different perspective on her writing,  while James Joyce preferred to lie on his stomach.   William Faulkner, predictably, would drink whiskey while writing.  Lewis Carroll wrote in purple ink.   Dan Brown finds hanging upside down helps him write… So do you have any strange writing habits?  I don't think I do.  I'm more of a Gertrude Stein kind of girl, writing anywhere I can while the world goes on around me, but perhaps that's strange in and of itself!