How strange to be on holiday after so long… We are very fortunate that the area we live in is so beautiful, a wonderful coast and great access to walks in the countryside from our doorstep, but after months of semi-confinement we needed a change and Yorkshire felt far enough away to tick all the boxes.  It's a county we have visited many times and we were there in March 2020 as the country started to close down so it felt apt to close the circle with a visit that wouldn't get truncated this time!
I find it hard to be away from the sea so our first stop, Whitby, was one I was very much looking forward to.  It was our third visit to Whitby and it's certainly a town of contrasts. During the day it's full of day-trippers, there are long queues outside the fish and chip shops and the pavements are bustling with tourists and seagulls with an eye out for opportunity.  The pavements and everything standing on it, including us, are in constant danger of being showered with seagull "guano" to put it politely.  On the other side of the River Esk from the chip shops tower the gothic ruins of Whitby Abbey and alongside is St Mary's Church,  surrounded by ancient gravestones.  These two landmarks can be seen for miles, as we discovered when we walked the coastal sections of the Cleveland Way.  The sands of Whitby are, of course, where the doomed ship Demeter, containing only one survivor, Count Dracula, runs aground and Dracula, in the form of a dog, races up the 199 steps to the Abbey.
You can find out more about Bram Stoker's connections with Whitby here:
https://www.english-heritage.org.uk/visit/places/whitby-abbey/history-and-stories/dracula/
Stoker wasn't the only writer to be charmed by Whitby.  Lewis Carroll also loved to stay in the town and the house which was one of his favourite haunts is now a themed hotel, the La Rosa Hotel, with each room reflecting one of the town's famous inhabitants.  It is thought that Carroll might have composed The Walrus and the Carpenter while walking along the sandy beaches of Whitby.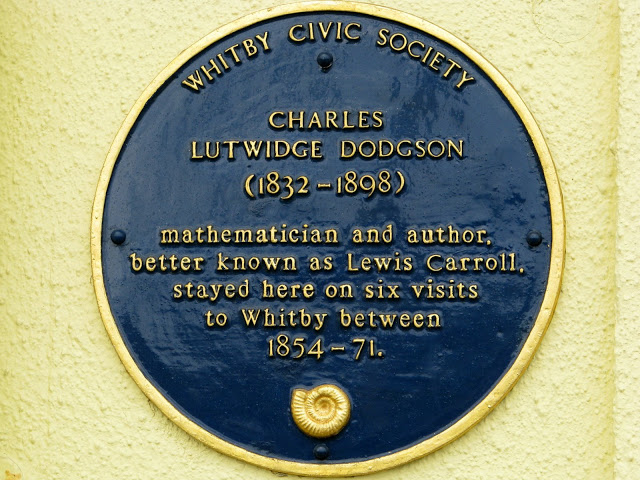 Whitby also has connections with Captain James Cook who was apprenticed to a draper in Staithes and it was there that he fell in love with the sea.  He later moved to Whitby as a trainee in a local fishing firm. He charted the coast of New Zealand and the eastern coast of Australia, a meticulous surveyor as well as a fine sailor and intrepid explorer.
Beyond the chip-strewn streets of Whitby, nestling in quirky streets above the town, there are many independent shops and even a French bistro or two!  There's also a wonderful heritage sculpture trail featuring life-size sculptures by local artist Emma Stothard.  My favourites were Dora Walker, one of the first female skippers:
and the herring girls on the quayside:
In a way, the sculptures and their themes reminded me of Norfolk and home.  The herring girls would follow the fishing fleets up and down the East coast of the United Kingdom and Great Yarmouth has strong connections with these women too.    Emma Stothard sculpts using wire, and has also made some stunning willow sculptures.  Seeing these figures set against seascapes reminded me of the the Lifeboat Horse sculpture at Wells-next-the-Sea, made from steel bars and whisky barrels.  It was created by artist Rachael Long as a tribute to the horses that once pulled the town's lifeboat more than two miles from the quay to Holkham Gap.  I think the past fifteen months of uncertainty and limited travel have given me a stronger sense of "home" and I could feel its pull however much I was enjoying being away.
The coast path which forms part of the Cleveland Way and which runs from Saltburn to Filey is stunning.  We had done the Filey to Scarborough section in 2019 on my birthday in November so we focused on Saltburn to Scarborough and completed it in four stages – Saltburn to Staithes, Staithes to Whitby, a circular walk from Whitby to Robin Hood's Bay (outward on the coast path and back on the Cinder Path, following the old railway line) and, finally, the biggie, Scarborough to Robin Hood's Bay.  The latter was definitely the most challenging, lots of steep steps up and down the crevices in the cliffs and lots of steep walks as the cliffs got higher.
Between the Abbey and Robin Hood's Bay we discovered Kittiwake City – a cliff full of the strange cries of the colonising kittiwakes.  This discovery was somewhat trumped by a visit to the RSPB reserve of Bempton Cliffs where we discovered Gannet City.  Over 11,000 breeding pairs of gannets have colonised these steep cliffs and there are puffins, guillemots, razorbills, kittiwakes and fulmars too.
We didn't manage to fit in a steam train trip on the brilliant North York Moors Railway this time, but we did go through Grosmont on the "ordinary" train on the day Harrison Ford was there reprising his role as Indiana Jones for his next film.  We had no idea as we sat, masked up, while our train rested a while in the pretty station, that we were so close to Hollywood stardom…
For our second week we chose Hawes in beautiful Wensleydale as our base.  No coast nearby but plenty of rivers and waterfalls!  One of our first walks was to Hardraw Force, a single drop waterfall of around 100 feet which very much impressed Wordsworth.  He wrote to Coleridge in 1799:
Writing to Coleridge in December 1799 he says;
"Twas bitter cold, the wind driving the snow behind us the the best style of a mountain storm. We soon reached an inn at a place called Hardraw, and descending from our vehicles, after warming ourselves by the cottage fire, we walked up the brookside to take a view of a third waterfall, . . . . .
We walked up to the fall; and what would I not give if I could convey to you the feelings and images which where communicated to me?
After cautiously sounding our way over stones of all colours and sizes, encased in the clearest water formed by the spray of the fall we found the rock, which had before appeared like a wall, extending itself over our heads like the ceiling of a huge cave, from the summit of which the water shot directly over our heads into a basin, and among the fragments wrinkled over with masses of ice as white as snow, or rather, as Dorothy said, like congealed froth. The water fell at least tens yards from us and we stood directly behind it."
Wordsworth greatly admired Turner's sketches of the Fall.  Turner stayed in Hardraw for three days completing four drawings of Mossdale Head, and two sketches of Hardraw Force one of which he worked up into the finished painting now hanging at the Fitzwilliam Museum in Cambridge.   I'm guessing he probably stayed in the wonderful Green Dragon Inn where I discovered some great local beers.  The Inn's sign is fabulous, straight out of Tolkein.
Hardraw Force has another claim to fame for it was here that Kevin Costner, as Robin Hood, bathed naked in the Falls, just as Maid Marion and her entourage passed by.  I celebrated this bit of Hollywood trivia by going behind the Falls fully clothed:
It was a beautiful time to be in the Dales.  The area is known for its hay meadows and we passed through many of these on our walks.  I kept a poetic diary of some of our walks, it's such an inspiring area…
"fields awash with buttercups —the spilled gold of an English June"
On our final evening we hiked across the fields past Haylands Bridge for a sheepdog demonstration by local farmer Richard Fawcett, who is a bit of a celebrity for his role as a judge in international sheepdog trials and also for his TV appearances.  Sheepdog matriarch Lola was having physiotherapy for a bad back so she couldn't join in the whole demo (she was named for the Kink's song), but her sons Keef (named after Keith Richards) and Croft, did her proud.  It was a great evening – below is a shot of Richard lecturing his sheep on how to behave when there are people watching.  Up on Dodd's Fell on one side of the valley, and Stags Fell on the other, we had passed flock after flock of sheep, not realising that they were all owned by Richard and his brother.  I am full of admiration for these farmers and their tough lives.
"A skylark's explosive song crackles in the blue air; sheep stare, wondering how they have conjured us from grass."