I've always been interested in the idea of liminal spaces, that strange place which exists, or non-exists, between other things.  It's a concept I explore a great deal in my poetry.  It could be the moment between sleeping and waking.  It could be a whole film.  Brief Encounter appears to be mostly set in a liminal space.  Laura (Celia Johnson) and Alec (Trevor Howard) meet on a train station and much of the action takes place here, particularly in the waiting room – a classic liminal space.  Their love-affair is doomed from the start – a brief passionate interlude, unrealised and unconsummated as both protagonists are drawn back to their sober, dutiful lives.  There are angsty, canted angles when Laura is in danger of going too far (there's a very film noir kiss in an underpass, shadowy and sinister) or when her state of mind is unbalanced almost to the point of suicide.  The film has been called the "Anna Karenina of the home counties" with one critic scathingly saying "make tea, not love".  Audiences at the time were famously irritated with Alec and Laura's inability to "get a room"!  If you ever get the chance to visit the Carnforth Station in Lancashire, where the film was shot, you are in for a treat. It houses an excellent heritage centre with, at its heart, a celebration of David Lean's 1945 classic.  You can even have tea in the faithfully restored Refreshment Room which sports huge, rather intimidating tea urns.
My favourite liminal space, however, is the pier.  It's not sea, it's not land.   As soon as you step onto a pier life feels full of possibilities and difference.  Southwold Pier is surely the most unusual you'll ever encounter.
I last visited in December when Southwold beach was shrouded for hours in a thick sea fret and the pier only came into view as we were almost at the steps.  As well as great shops and cafes, the pier is home to Tim Hunkin's "Under the Pier Show", a superb collection of unique, hand-built, wacky machines (there's also an amazing clock halfway down the pier which comes to life on the hour).  In the "Mobility Masterclass" you have to get gran across a busy road with her zimmer frame.  There's also the deeply satisfying "Whack the Banker".  The most recent addition is "airbednbug" where a few coins activate a sort of live storyboard about persecuted bedbugs – it's charming – a comic strip come to life.  My favourite moment is when the bedbugs realise they have to move and are leafing through brochures to choose their next hotel to infest – genius!
Is a pier a truly liminal space?  A liminal space is one of transition and you could say that piers are really ends in themselves although in the past they probably fulfilled a clearer liminal role as some the first pleasure piers were where you would while away your time as you waited for a steamboat or ferry.  One of the earliest pleasure piers was Ryde Pier, built in 1813. There were working piers too, of course, (and still are today), like Wigan,  where passengers and cargo were loaded and unloaded.
If you're a film buff like me then probably your first thought at the mention of piers was Brighton Rock.  There's a great article at the link below
http://www.telegraph.co.uk/travel/artsandculture/8273771/Brighton-Rock-stepping-into-the-black-and-white-world-of-Pinkie-and-Rose.html
about a Brighton Rock walk given by Julian Clapp.  The 1948 version of Graham Greene's book stars Richard Attenborough as baby-faced evil personified, giving a stunning performance as Pinkie.  The film was an immediate sensation and also deeply disturbing for an audience reeling from the horrors of the Second World War, with some critics believing the film shouldn't be shown.  Violence in films was always a concern, with those in control believing that it could have an adverse effect on the suggestible, mostly working class, cinema audiences.  Brighton Pier, of course, takes centre stage, with its ghost train, fortune tellers and the "make a record of your voice" booth, used to such great and poignant effect at the end of the film.  You can watch the clip below:
Many people who feel the 1948 version is the definitive one were not too keen on the 2010 remake with Sam Riley as the psychopathic Pinkie, and the reliably superb Andrea Riseborough as Rose, but I quite like remakes.  It's always interesting to see how a new version of a classic addresses its audience.
Richard Attenborough renewed his connection with piers by directing the iconic anti-war film Oh What A Lovely War! in 1966.  The archetypal Smith family's experience of the First World War is played out through a series of elaborate tableaux staged mostly on Brighton's West Pier.  It begins with General Haig selling the family entrance tickets to the "show".  At one point, officers zoom down a helter skelter, the perfect metaphor for their heedless and naive decisions.
Hunstanton Pier, or the lack of it, has been a bone of contention in this West Norfolk town for some time.  The pier was destroyed by storms in 1978 and the little which remained was more or less destroyed by fire in 2002 and subsequently removed.  Before its sad demise, the pier was immortalised in an Ealing comedy from 1956 Barnacle Bill, starring Alec Guinness.  Guinness plays a sea captain with seasickness who buys up the old pier and turns it into a non-moving cruise ship, a shipshape vessel which will never go to sea – so we are very much back to the strangeness of liminal spaces.   The success of the pier and its new role is very much to the chagrin of the local council who want to demolish it and modernise the promenade (plus ça change…)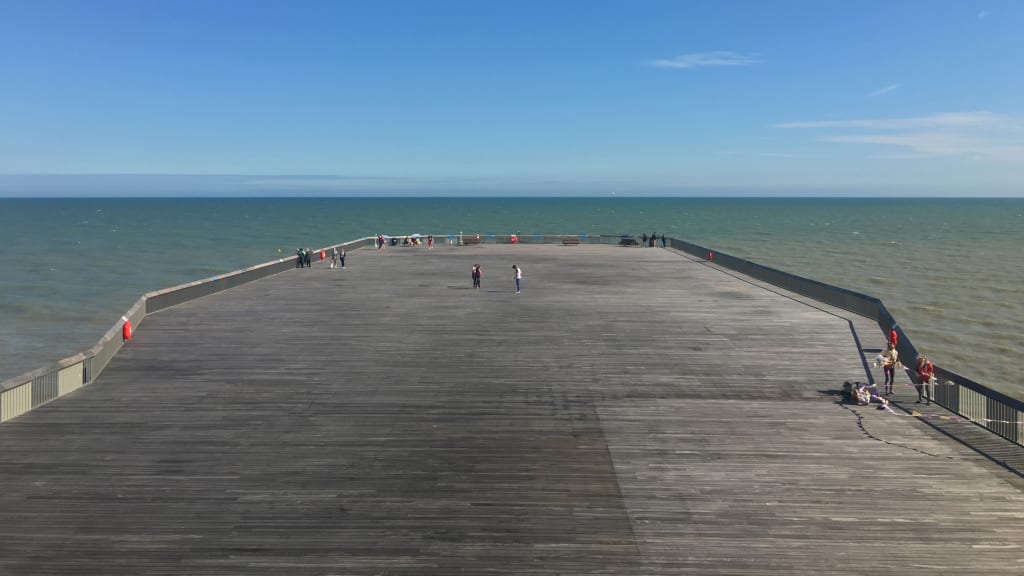 As a child, I had an aunt who lived in Hastings whom I used to visit so I have vague memories of the old pier which was destroyed by a fire in 2010.  It has just been rebuilt and looks stunning, I can't wait to visit this stunningly modern new space which was named the UK's best new building last year.
Now I'm resident in East Runton and just down the road from Cromer, this, of course, is my new favourite pier.  It's one of only five UK piers with a working theatre and I'm very much looking forward to booking my ticket for the End of the Pier show!  The pier itself has had a long and rich history with records of a structure going back as far as the fourteenth century.  At night it's lit up in a magical way and acts as my beacon when I walk along the beach to Cromer on dark evenings.
The pier was the location for "In love with Alma Cogan" directed by Tony Britten.  Much of the action took place in the Pavilion Theatre and the plot revolved round Theatre Manager Norman's resistance to a more commercial show.  Norman was played by Roger Lloyd Pack and the film was one of his last appearances on screen.  Lloyd Pack was well loved locally, he'd fallen in love with the area in the 1970s after acting in Joseph Losey's The Go Between  alongside Alan Bates and Julie Christie and, as a result, owned a house locally.
So, my advice to you all is to have a liminal moment.  Stand and contemplate life in one of the places in-between – a stairwell, a waiting room, an airport – these are places where reality feels somewhat altered, places which only exist as a means of getting somewhere else or as a resting place.  Best of all, go and stand on a pier and enjoy not having to find your sealegs, experience the feeling of walking on water.  Buy chips, have a cup of tea, get your fortune told, admire amazing starling murmurations from Brighton's ruined West Pier or at Aberystwyth.  A place of creative pause and contemplation.