As you can see from the heading, I'll be blogging under a new name from now on to celebrate our move from King's Lynn to East Runton, a little village just outside Cromer near to where the late, great John Hurt lived.  I've already started writing more sea related poetry than usual so it looks as if it could be an inspirational step in the right direction and there are lots of great cafes to explore locally!
At the moment, I'm obsessed with Jane Austen.  It's 200 years since she died of what might, according to experts' analysis of her detailed letters, have been Addison's Disease.   I love her wit and the way she exposes all that's wrong with the middle-class Regency world.  I've been watching the 1999 version of Mansfield Park with Frances O'Connor as Fanny Price and Jonny Lee Miller as Edmund Bertram and, somewhat surprisingly, Harold Pinter as Sir Thomas!  I'm interested in the the way Austen hints at parallels between the patriarchal oppression of women and the concept of slavery and all its moral dilemmas.  Fanny and Edmund object to slavery and reference Thomas Clarkson and the abolitionist movement, but they are both living thanks to its proceeds.  Fanny is the poor relation and Austen talks of the slavery of poverty, of which she was very much aware.  Edmund is the younger son who will have to make his own way in the world to a certain extent.  They are both dependent on Sir Thomas, the slaveowner, for their livelihood and happiness.  Austen's stories brim with intelligence and, although it has been said that if she were alive and writing today her work would be classed as "chick lit" in that her main frame of reference is always The Marriage Plot, I feel that she does so much more in her writing than mere plotting and characterisation.  As P D James put it, "Mills and Boon written by a genius!"
I'm rather partial to modern cinematic adaptations of Jane Austen and Alicia Silverstone as a high-school Valley Girl version of Emma is one of my favourites, followed closely by Gurinder Chadha's brilliantly cheesy Bollywood Bride and Prejudice.   I often find myself, just as Emily Blunt's character does in The Jane Austen Book Club, asking What Would Jane do?
And yet another reason for me to love Austen at the moment, there's even a connection to Cromer!  The town was at the forefront of the burgeoning interest in seaside tourism and began life as a Regency bathing resort.  In Emma, Mr Woodhouse says,
 "You should have gone to Cromer, my dear, if you went anywhere.  Perry was a week at Cromer once, and he holds it to be the best of all the sea-bathing places. A fine open sea, he says, and very pure air. And, by what I understand, you might have had lodgings there quite away from the sea – a quarter of a mile off – very comfortable…"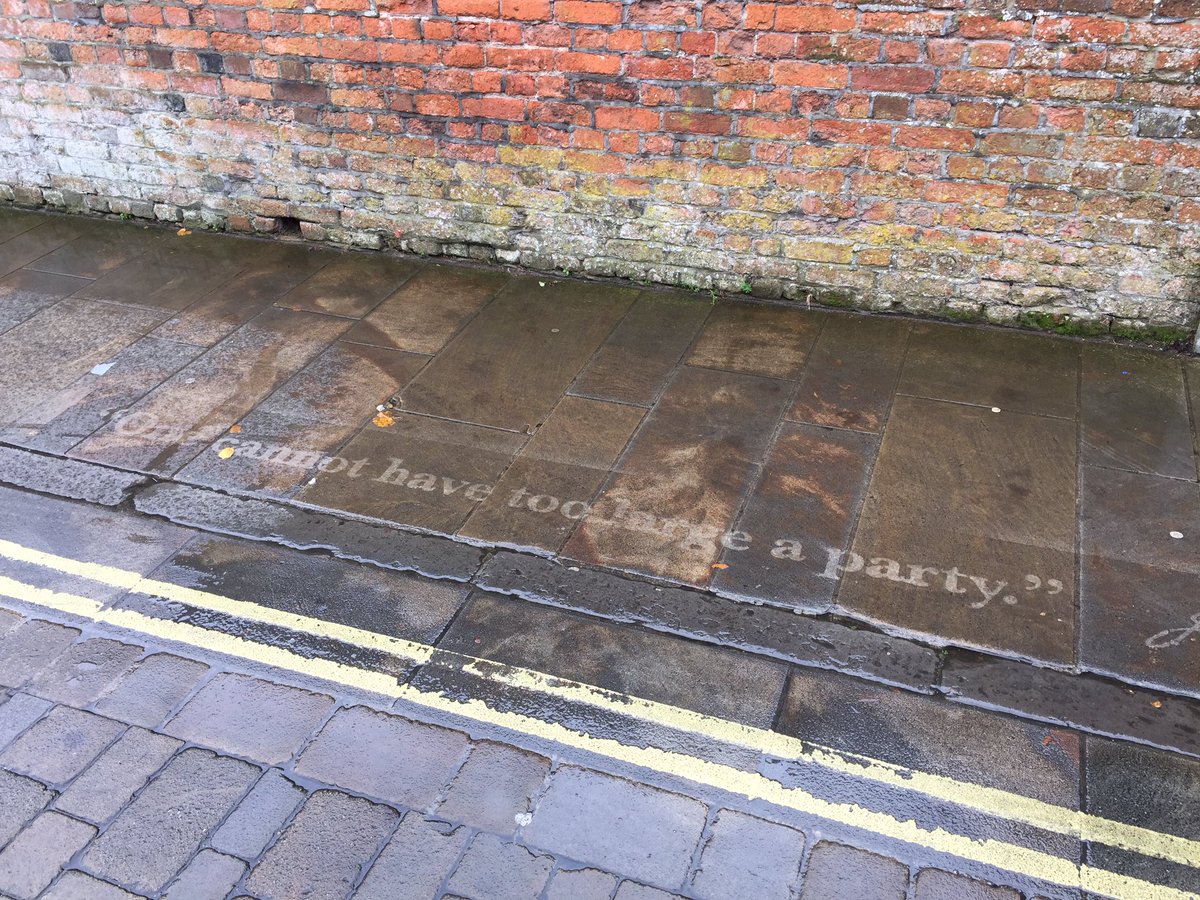 In May this year I visited Winchester, paid my respects at Jane's gravestone in the cathedral and absorbed the atmosphere of this pretty town where she lived out her last few months.  "I see more distinctly through the rain," Jane once wrote and, with this in mind, there's a wonderful trail through the town called Rain Jane.  If it rains, quotes from her novels magically appear on the pavements and disappear as the rain evaporates.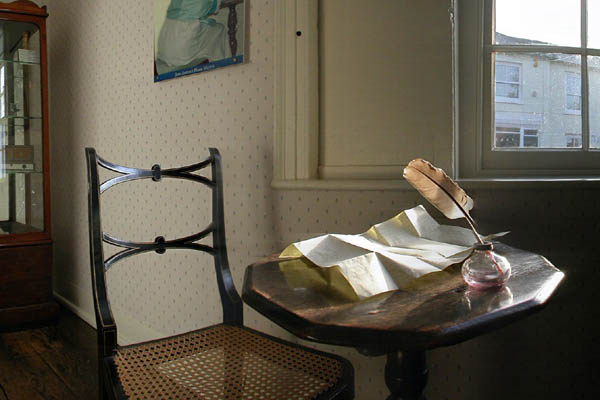 I also visited the village of Chawton, where, in the cottage which is now the Jane Austen's House Museum.  Here, Jane, her mother and beloved sister Cassandra finally had a place they could call their own, albeit briefly.  I stood reverently before the table where she wrote, trying not to be too angry at the tiny space she had to let her imagination run riot with the intricacies of hatching, matching and dispatching.  This anger led to my only Austen inspired poem, the imaginatively titled Jane's Table!
If you do find yourself in this part of Hampshire, then the Sculpture Park in Churt is well worth a visit.  It's really a giant open air exhibition showcasing around 800 pieces of work from approximately 300 different artists.  This means it's also well worth revisiting as the pieces are all for sale and change constantly.  It's set in ten acres of woodland and heathland with some quite steep parts at times as it's set in a natural valley.  There are three lakes fed by natural springs which provide a stunning backdrop for some of the artwork.
https://www.thesculpturepark.com/
And once you've had your fill of art, pop over to Bel and the Dragon opposite the entrance for refreshments!  It's a lovely country inn/boutique hotel, beautifully decorated, and all the rooms are named after Jane Austen characters!
Finally, for all you writers out there, the wonderful Jack Milgram has been in touch with his latest infographic 28 Boring Words and What to Use Instead.  Jane would have loved this, what a great rescource!
https://custom-writing.org/assignment-writing-services#boring-words