Living in Cromer can have quite surreal aspects at times.  In May we had the plague of hairy caterpillars (oak precessionary moths).  These were all over the concrete prom and as their hairs are toxic there was a bit of a panic locally.  The plague also delayed the arrival of the Bagot Goats for their annual summer holiday.  The herd belongs to North Norfolk District Council and they come to graze on the Cliffside above the promenade.  They probably don't know it, but they are carrying out an important role in habitat management.  Bagot goats are our oldest British breed, hardy, tame and fond of uplands.  This year there are 10 nannies and 9 kids and they are a sight to behold, although I have to say that most of the time they appear to be having a good rest on their sandy ledge.  Except on Fridays.  This is when I get up early to do Yoga on the Pier at 7am and the goats are usually already chomping away as I blear my way past.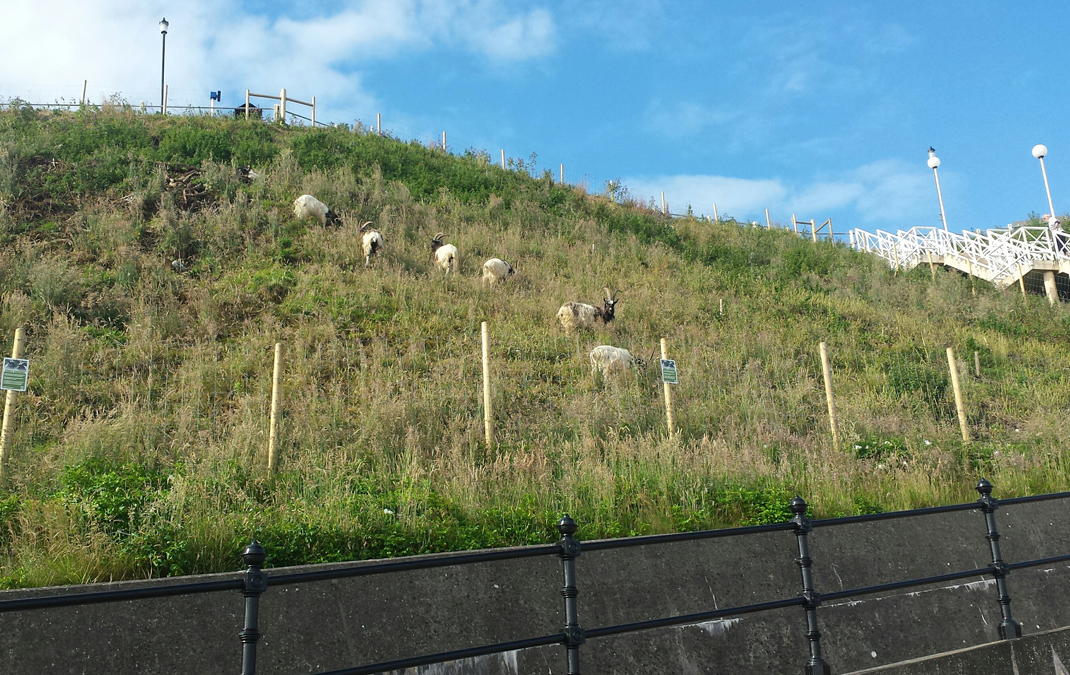 I've been doing yoga for over thirty years but this has to be the best class ever – doing downward dog and seeing the sea lap under the boards of the Pier is a unique experience!  I'm a great fan of paddling when it's too cold to wild swim and sometimes just pop on my teva sandals and paddle to the class.  For as long as I can remember Chris and I have been popping to seaside places after work for a spot of paddling and ice-cream (these go together like fish and chips, bread and butter etc etc) usually Sheringham when we lived in Norwich as it was one of the few seaside towns to sell Ronaldo ice cream, and Hunstanton when we lived in King's Lynn.  This week I paddled from East Runton to Cromer to a morning appointment and arrived sandy but refreshed.  Wet commuting is not unusual, I once did a day-trip to Basel to visit the Tinguely Museum and saw an extraordinary number of people swimming to work, or rather floating, letting the strong current take them downriver, office clothes firmly secured in inflatable drybags! During my time teaching in Switzerland I regularly swam in Lake Zurich, often morning and evening, to wake up and then wind down.  You always knew when you had swum to the middle of the Lake as two distinctive church towers suddenly merged into one, a little like an eclipse.  In the summer there's a lovely ladies only pool on the River Limmat which turns into the Barfussbar (Barefoot Bar) once it gets dark.
In July we headed off to Ledbury for the Poetry Festival and some hillwalking.  It coincided with the first week of the heatwave and I found myself longing for cool coastal breezes. In search of respite we paddled in the Wye a couple of times, once just outside Hay-on-Wye and once in Hereford where I suddenly twigged why the town is situated there and why the water is so shallow (it's all in the name!).
Elgar is associated with this area and it's hard not to walk around without his wonderful music playing through your mind, especially as many of the friends he based Enigma Variations on lived in this area.  There's even a statue by the River Wye commemorating Dan the Bulldog, who belonged to George Sinclair and inspired Elgar's Variation on an Original Theme XI which tells the story of Dan falling into the River, paddling upstream to find an easy way out of the river and his triumphant bark as he reaches dry land!
Sensory and Rye in Union Street provided us with much-needed third wave coffee (V60) and a delicious vegan lunch.   The unusual name comes from a part anagram of the name of the butcher's shop originally on the premises (G Rowberry and Sons).
A choir were practising in Hereford Cathedral during our visit, their sublime voices filling the space and enhancing the discovery of Tom Denny's extraordinary stained glass windows celebrating the life of Thomas Traherne, a contemporary of John Donne, and one of the metaphysical poets.  The detail and colours were unlike anything I'd seen before.
In pursuit of all things watery we did a Wells and Springs self-guided walk in the Malvern Hills.  The start point was one of my favourite and most unusually sited vegetarian cafes at St Ann's Well.  It's a steep climb but the reward of chocolate fudge cake is nothing if not motivating!  The drought was starting to have an impact,  with yellowing grass and bare patches on the hillsides, but underground there are a multitude of springs.  Malvern was very popular in the Victorian era when the health craze of "taking the waters" was at its peak.  The local water was bottled by Schweppes from 1851 until very recently.  Florence Nightingale, Lord Tennyson and Charles Darwin all took the waters and claimed considerable health benefits from this experience.  Wherever the springs emerge above ground you'll find a small well, often built by philanthropists to ensure poorer people had a good supply of fresh water.  Below is the charming Westminster Bank Well just above West Malvern where, in St James' churchyard lies the grave of M. Roget of Thesaurus fame.
You can drink from the wells in Great Malvern itself but the hillside wells often become contaminated so I resorted to soaking my baseball cap in each one we passed instead of drinking.  My hair and cap dried in minutes in the 30 degree heat.
Tolkein and C S Lewis are strongly associated with Great Malvern.  They often came up from Oxford to walk in the Malvern Hills with their friend George Sayer, and would drink in the Unicorn Pub.  There are some gorgeous Victorian gas lamps in the town and the hills, often in quite incongruous places, and it's believed that this is where C S Lewis got the idea for the lamp-post in Narnia where Lucy meets Mr Tumnus.  The hills are also thought to be the inspiration for aspects of Middle Earth and the landscape of Narnia.
I really enjoy films which explore the lives of writers and Shadowlands is a particular favourite.  Anthony Hopkins plays C S Lewis and Debra Winger plays Joy Davidson, the American poet he falls in love with.  Her death from cancer challenges his Christian faith and it's a powerful and moving film.   The Happy Prince, which has just been released, explores fellow Irishman Oscar Wilde's fall from grace and his days of exile in Paris.  Rupert Everett is superb as the ageing Oscar, as one critic put it, he was born to be Wilde!  I'm also fond of Zinnemann's Julia with Jane Fonda as Lillian Hellman, Jason Robards as Dashiell Hammett and Winterton on the Norfolk coast standing in as Cape Cod.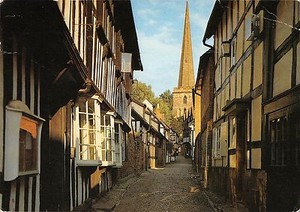 Ledbury Poetry Festival was a wonderful event to have on your doorstep as part of a walking holiday.  Ledbury is a very attractive market town and one of its many claims to fame is that John Masefield was born there – there's still a firm of solicitors in town bearing that name.  Elizabeth Barrett-Browning lived just outside Ledbury so it certainly has poetic form!  The Festival takes place all over town; highlights were a storming performance by Hollie McNish, a superb reading by Sinead Morrissey, an insightful talk by Sarah Churchwell on Sylvia Plath and a brilliant analysis of Wallace Stevens by one of my poetry heroes, Mark Doty.  I attended two excellent workshops, one with Sinead Morrissey on the perils of abstraction and one with Kim Moore on hidden narratives.  Almost every shop window was festooned with poems and poetry books but of course Ledbury can't compete with Hay-on-Wye which has a population of 1500 and over 30 independent bookshops!  So, what are your perfect holiday ingredients?  A simple combination of paddling, bookshops, specialist coffee, good walks and poetry certainly worked for me this time!