There's no arguing with Van Morrison and the above is what I've been trying to do all summer.  It's not been the best year for swimming, there have been some wonderful days of flat sea or sea with a slight swell, but most days have been too surfy for swimming and I'm not a great fan of being thwacked round the head constantly with waves.  Still, I've managed nearly forty sea swims since mid-June so I really shouldn't complain!
One of my new favourite things is hiring a beach hut from the Reef Stop Café in Cromer.  They are cheap and cheerful, basically just decorated sheds with a table, four chairs, two fold-up chairs and two deckchairs, but they are perfect for a day out and the weather doesn't matter so much if you're prepared (two visits above, one in July, one in September!).
We only live a mile away from the huts but there's something holiday-like about packing up a big picnic, lots of books and writing paraphernalia and colonising the hut for a day.  It's fascinating to watch the world go by, there's somewhere to change if you fancy a quick dip and when it gets stormy or windy you can hunker down in the doorway of the hut.  Often people go past and point, but it's usually at the Bagot goats grazing the steep cliff behind the huts.  These hardy goats do a grand job at keeping the cliffs suitably manicured.  Only half the herd are with us this summer, the other half are at Salthouse Heath, grazing the gorse around the old WWII radar station remains.
So, as I'd found the hut so productive for my own writing, I decided to run a Beach Hut Writing Day and hired all three huts from the Reef Stop.  The day before the weather was awful but my every five minute updates from BBC Weather showed me that the next day would be windy but dry and fine.  It was a lovely bright day, albeit chilly, and six brave souls joined me for an intensive day of writing and experience the local environment.  This experience included a dead seal, not quite adult, washed up on the beach.  It looked quite fresh.  Juvenile herring gulls made swift work of stripping its head to the bone.  I was just about to wax poetic when I realised that I had a poem about exactly that already in The Saltwater Diaries.  Am I running out of new things to say about the sea?  I hope not, it is ever-changing and ever present…
Many early beach huts were abandoned bathing machines from the Victorian era.  Enterprising entrepreneurs took off the wheels and hired them out – they would have been useful in the Edwardian era when, although mixed sex public bathing was no longer frowned upon, public changing would have been.  Some beach huts were converted from fishermen's huts or boat-houses.  I love the beach-huts at Southwold though will never be able to afford one as they often sell for £150,000!  One of my favourite walks is from Wells (Norfolk) harbour to the beach, and then past the multi-coloured beach huts which never fail to cheer me up.
Today, there are thought to be over 20,000 beach huts in the UK.  Most of them are for day hire but there are those which are so well-equipped and luxurious, such as those in Mudeford which can be hired as a kind of shabby chic holiday home by the week.  There's a royal tradition behind the popularity of beach huts, George III gave the stamp of approval to them when he took a medicinal bath in Weymouth to the strains of "God save the king", while Queen Victoria had one installed at Osbourne House on the Isle of Wight in 1840.  Up until 2003 the Queen had a large bathing hut in the woods near Holkham, but it was destroyed by fire.
Cromer's fortunes took an upturn in the eighteenth century when sea bathing became a trend and bathing huts were being advertised from 1779.  Cromer was for many years a small but exclusive resort, favoured by a circle of rich Norfolk families including the prominent banker, Quaker and philanthropist John Gurney. It was a watering place of some fashionable standing, and was even mentioned in Jane Austen's "Emma" in 1814.
The fashionable few in Cromer rejoiced in its isolation – according to a town guide from 1841, as quoted by the Cromer Preservation Society: "Its undisturbed quiet has rendered it a paradise for the clergy and old ladies whose never-failing theme of mutual congratulation is the difficult access which saves them from being over-run by excursionists."
Cromer's exclusivity ended when the first railway station opened in 1877.  It was some way out of the town, so it was the opening of the second station, "Cromer Beach Station" in 1887 which had the greatest influence on Cromer's development.  Towards the Overstrand (East) end of the promenade there's a terrace of more permanent looking bathing chalets which were built in 1912 for the Cromer Protection Commissioners.  These Commissioners had remodelled the sea front in 1845-6 and commissioned new promenades and sea walls in 1899-1900, as well as the cliff retaining walls, and sloping pedestrian pathways and Victorian Pier.  There was a lot to maintain and hopefully the bathing chalets afforded them shelter and a few creature comforts.
Today, if you carry on along the East Promenade you'll come to the end of the beach huts.  The promenade drops sharply and steeply onto the pebbly beach.  It is here that the Cromer Banksy appeared in mid-August as part of Banksy's Great British Staycation project.  The celebrated and secretive street artist's work (he must be Bristol's best-kept secret) appeared in Gorleston, Lowestoft, Cromer and Great Yarmouth.  King's Lynn enjoyed a brief Banksy claim to fame when a tongue and ice cream cornet was added to the statue of Frederick Savage, engineer, inventor and former mayor of the town, before being removed by the authorities.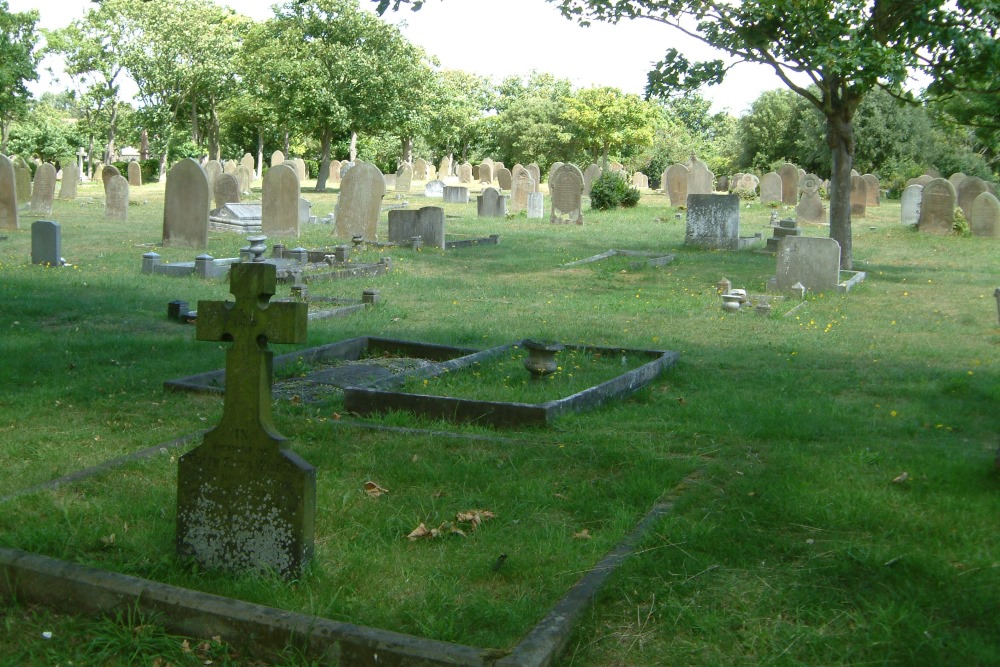 Recently, we took a day trip to Great Yarmouth to explore the amazing cemeteries which stretch from St Nicholas's church almost to the seafront.  There are four cemeteries in total, with wonderful wild areas, atmospheric gravestones, mournful trees.  Each cemetery is contained by what look like quite ancient walls in places.  I'm fascinated by burial sites and am currently reading Peter Stanford's How to Read a Graveyard: Journeys in the Company of the Dead which looks at different burial sites through the ages and stories and traditions associated with cemeteries such as Greyfriar's Bobby, Burke and Hare, celebrity graves at Père Lachaise, the cemetery in Rome where Keats and Shelley are buried, and the graveyard where he would like his final resting place – St Margaret's Church in Burnham Norton.  Stanford begins the section on Paddington Old Cemetery with a quote from J C Loudon on managing cemeteries:
"No dogs or improper persons; no smoking, drinking or even eating; no running or jumping, laughing, whistling or singing.'
I guess he wouldn't have been happy at the joyous schools-over-for-the-day schoolkids using the cemetery as a shortcut, the amount of tinnies under the trees or the hilarity when Chris bent to read a gravestone and a ripping sound meant yet another pair of trousers was lining up in my sewing basket…
We also went to the brilliant photographic exhibition of fisherwomen by Craig Easton at our favourite Norfolk museum, the Time and Tide, and popped up to Admiralty Road to the now famous bus-stop where another of the Bansky artworks has appeared.  Also to be admired were the gorgeous iron structures of the adjacent gasworks – all my favourite things were included in this day – romantic graveyards, urban grit and street art, and the seaside!  There's always something quirky going on in Yarmouth's shop windows.  Here's the perfect Granny – I wonder if she's part of the yarn-bombing trend?
And then it was back to Southwold, a regular haunt, where we discovered the tiny "rent by the day" council beach huts, gawped at the posh beach-huts with their porches, daybeds, and perfectly equipped kitchens, watched the dogs running on the huge sandy beaches, hunkered down in the dunes with our sandwiches after a boat ride across the Bly to Walberswick, scanned the shingle for amber and admired the yarn-bombed postboxes.  This one, of a gull perched on the beach-huts, is my favourite.
It was good to see the Pier again and remember that this time last year I was collaborating with John Crossley, a Suffolk artist, in the A Common Ground project, run by the Eames Art Gallery in London and 26 Writers.  John and I were paired up and asked to find a common place we could write about and paint.  We chose piers.  John painted Southwold Pier and I wrote about Cromer Pier.  Here's my poem and the link below will take you to the whole project:
https://www.eamesfineart.com/viewing-room/31-a-common-place-connecting-people-through-art-words-and-a-common/
the pier knows the bite of barnacle
panicky flutter of caught seaweed
shrugs off gull snarl
holds his underbelly low
for waves' rub
the pier loves the foxtrot beat
of tourist feet
after storms his skin flakes
like an old snake
sometimes the moon teases
pulls at secrets locked
in his iron heart
& the pier remembers
his first kiss
(With thanks to Phil Hawtin and Christina Hogg for many of the photos which appear in this blogpost.)