I love the changing seasons, especially the time around Christmas when the days close in and, as a freelancer, I give myself permission to hibernate and catch up with my own reading and writing.  Where I live, just outside Cromer, has so much to offer over the Christmas period. I like building up new traditions and rituals around this time of year and these local events now feel part of our Christmas.  Before Christmas there was carol-singing accompanied by a tiny brass band on East Runton village green to raise money for charity –  a chilly evening with very welcome doses of hot apple juice and mince pies. As the band leader announced the last carol, the otherwise well-behaved dog in front of us let out a howl of anguish… On Boxing Day we wandered down to the Pier and watched hundreds of brave souls do the Boxing Day dip, some more than once!  The End of the Pier show brought glamour and humour to  a dark, windswept evening and the New Year's Day fireworks lit up the new slate of the sky for us all.  Daily coastal walks cleared my head and I was ready for the Paris trip I'd planned for early January.
To backtrack a little, in October I went to Paris to focus on writing more towards a new body of work called The Artificial Parisienne which is about ageing and identity and features a lengthy section on Paris cemeteries!
One of the highlights of my October trip was a visit to the Russian cemetery in Ste Genevieve-des-Bois, just outside Paris, where many of the White Russians who emigrated to Paris at the beginning of the 20th century are buried.  It really is a little bit of Russia, from the babushka who guards the gates, to the onion domed church and the gravestones with little doors for icons and candles.  The cemetery is planted with silver birch and cypress. I discovered one of my favourite film directors, Andrei Tarkovsky, was buried there, under a beautiful maple tree which was shedding its leaves in a most artistic way.  The main attraction though, was Nureyev's grave.  I have never seen anything quite so beautiful.  His tomb is draped with a stone kelim covered in tiny mosaic tiles.  He was a big collector of Oriental carpets and this stunning artwork makes his grave the standout event of this cemetery.  I always regret not having met him.  When I was working at the Royal Academy of Dancing one summer I was planning the proposal for my undergraduate thesis and wanted to write about dance in Paris, particularly the Paris Opera.  My boss was a friend of Rudi's and was going to organise a meeting, but unfortunately by the time my trip was planned he was far too ill to see anybody.
Another highlight in October was absinthe!  Having visited the Absinthe Museum in Auvers-sur-Oise last year I was keen to try it out –   it's safe now and has become quite the trendy thing to drink.  My best friend, who loves Paris and speaks perfect French, came over for a few days and we found a lovely old family restaurant in Montmartre called Le Bon Bock where we could try this legendary drink.  The whole process is quite magical.  You put your special spoon over your glass of absinthe with a lump of sugar on it and drip water from the samovar style receptacle over the sugar – gradually your drink turns the cloudy green of a peridot stone, hence absinthe being called the Green Fairy.  It tastes a little like pernod and is quite potent but no longer rots your brain!  There are some gorgeous art nouveau absinthe sets around featuring Lady Absinthe holding the absinthe fountain aloft:
Overall, I was there for ten days in October and wandered the streets at length, learning so many new things about my favourite city.  I joined a tour of the covered arcades of Paris, which were designed to enhance the bourgeois experience of luxury shopping without getting wet or aggravated by the dirty streets. There used to be 150 of these, now there are only twenty left.  One of my favourites is Galerie Véro-Dodat where you can see Christian Louboutin's shop and his extraordinary shoes with their infamous red soles.  This may seem out of step with the archaic grandeur of the arcades but there was a cobbler's here in the past and people do bring their Louboutin's to be mended as they want these extravagantly expensive shoes to last as long as possible.  The Galerie once had a sign saying No Dogs/No Parrots/No phonographs at the entrance as apparently a local eccentric would walk through playing loud music!
You can find out more about the passages here https://www.francetoday.com/travel/paris/once_and_future_passages/
One of my favourites is Passage Brady which runs between Rue du Faubourg St Denis and Rue due Faubourgh St Martin – it's full of fabulously cheap and authentic Indian restaurants, all vying for your trade.  On Rue due Faubourg St Martin is the tiny Cinema Brady which shows a really eclectic range of films. Galerie Vivienne with its mosaic floors and gorgeous light-filled passages is a real visual treat.  I had lunch at Bistrot Vivienne which is full of old world charm.  It's worth nipping upstairs to the loo to see the restaurant on the upper floor which looks like a 19th century brothel!
We also went on a Chanel walk with the wonderful Paris Walks organisation https://www.paris-walks.com/ I was shocked to discover that there was a law in France which meant women could only wear trousers in public with official permission or in special circumstances which was only revoked in 2013!  It was fascinating to hear how Chanel integrated so many aspects of her life into her art – her key colours of black and white and beige reflected the nuns' habits in the convent where she was brought up and the sands of Deauville where she had her first shop.  She lived in a suite in the Ritz Hotel (the hotel whose bar Ernest Hemingway famously "liberated" as he swept in with the Allies to end the Occupation) overlooking Place Vendôme – the top of a chanel perfume bottle evokes a bird's eye view of the square.  She often incorporated her birth sign, Leo, into her jewellery designs and the chain on a Chanel bag is said to be inspired by the nuns' key chains. One of Chanel's lovers was, allegedly, a Count implicated in the Rasputin assassination.  He gave her some Romanov pearls which began her love affair with ropes of pearls to complement an outfit.   The entwined Chanel Cs probably refer to Boy Capel, the love of her life.  She was an ingenious promoter – at the end of the war, to try and  get Chanel No 5 known internationally she gave little sample bottles to the GIs to take back to their sweethearts.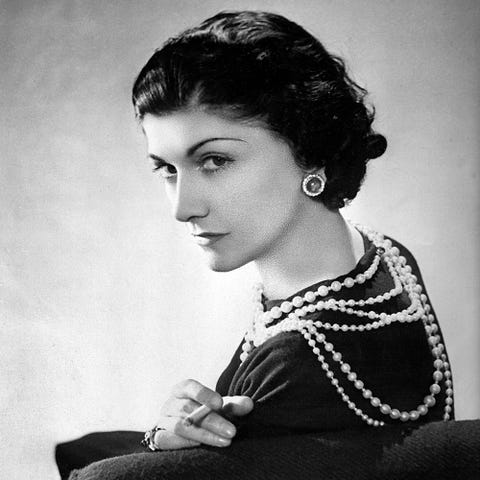 My trip to Paris this January to tie up a few loose writing ends was very different to the October trip.  I'd planned the trip before before the General Strike was announced for 5 December.  Having lived in Paris on a few occasions, although the strike began a month before my visit, I knew what to expect and my heart sank… And yes, true to form, the transport workers were still striking a month later and have only just stopped! I arrived on Day 35 of the longest national strike in French history.  Two days of my very short stay coincided with mass demonstrations and throughout my stay it wasn't worth taking the metro at all.  A large number of stations were closed and most lines could only run 1 in 4 or 1 in 5 trains.  Schools were closed on demo days and many small businesses were shut as employees were unable to come in and open up.  These were protests about Macron's pension reforms and were combined on many days with the ongoing gilets jaunes demos about the cost of living.
Even with no transport it's hard not to have a good time! Paris is a compact and very walkable city.  One of the highlights this time was the Marie Antoinette exhibition at the Conciergerie which looked at the fetishisation and commodification of her story in the very building where she spent her last few months.  I loved seeing Marie-Antoinette's huge knitting needles, she could surely have taken out a few guards with these and joined those bloodthirsty women who used knit in the front row of the crowds flocking to watch the executions!  There was quite a big section on films which focused on Marie Antoinette's story.  My all-time favourite is Sofia Coppola's 2006 film which shows Marie (played by Kirsten Dunst) as a fashion-mad teenager surrounded by boxes of gorgeous confections as Madonna's Material Girl blasts out.  I have a new favourite too.  Miss Piggy, dressed as Marie Antoinette and surrounded by piggy courtiers, dancing to the Bee Gee's Staying Alive in an episode of the Muppets Show!
After all this intellectual stimulation I headed to the Paris Mosque at the edge of the Jardin des Plantes, an old favourite of mine – when I was poor and living in Paris I would come here for cheap mint tea and baklava in the lovely mosque garden cafe.  One of the mosque's hidden secrets is a gorgeous Hammam, totally traditional and for women only with opulently tiled areas, steam room and plunge pool. Your first task is to slather yourself with savon noir to soften your skin ready for your gommage where a masseuse takes a scratchy glove and removes an alarming amount of dead skin.   I was adopted by a kind Moroccan family – mother, daughter and grand-daughter – who gave me a bucket of very fine savon noir and lent me shampoo!
It's the little things in Paris which are the most pleasing.  Sitting outside a tiny café on Rue des Abbesses with a vin chaud looking at the twinkling Christmas decorations.  Queueing with all the tiny schoolkids and their mums and dads for a crêpe and eavesdropping on conversations about dance classes and parties. Finding a boulangerie on Rue de Caulaincourt run by a French/Japanese couple where I had a choux a la crème de matcha which was probably as close to heaven as I'll ever get.  While the Paris Christmas decorations are tasteful and twinkly, I had to just give a nod here to the amazing Lancôme Christmas tree, in the shape of the Eiffel Tower and made out of perfume bottles, at St Pancras station!
Due to the strikes Paris was a lot quieter than usual so I decided to go the Musée d'Orsay and catch the Degas at the Opera exhibition – a wise decision – no queue at all, I got straight in on a Saturday morning.  This was a real nostalgia visit for me.  When I was living in Paris in the 80s during my year abroad I wrote my undergraduate thesis on the Musee d'Orsay which had just opened (my alternative option after my interview with Nureyev was destined not to be…   All around me Mitterand's Grands Projets Culturels were springing up – as well as the Musée D'Orsay there was the Louvre Pyramid, the Parc de la Villette, Institut du Monde Arabe, Grande Arche de la Defense and the Opera Bastille which was chewing up most of my beloved Bastille area.  I went to one of the first performances in Parc de Bercy, a version of Aida, as they were giving away free tickets to a sceptical public.   I can't remember much about my thesis, but I do remmeber visiting the museum on a weekly basis and interviewing the director as well as watching a string quartet playing in front of one of the iconic clock windows of the old Gare. I think the views of Paris from the windows of the museum are the most wonderful thing about it.  The Degas exhibition was slightly disturbing, over 200 sketches and paintings of young girls exercising, rehearsing, relaxing, mostly behind the scenes.  Degas was a Paris Opera subscriber which mean that he could, three days a week, watch dance classes and stand in the wings of performances.  It all felt rather obsessive and voyeuristic and by looking at these paintings one is complicit in this obsession, a strange experience, somewhat akin to watching a Hitchcock movie!
I raced back to London with notes galore and rough drafts of several poems in time to see the always fabulous T S Eliot awards. All ten of the shortlisted poets are so worth reading – Fiona Benson, Sharon Olds, Deryn Rees-Jones, Ilya Kaminsky, Roger Robinson, Anthony Anaxagorou, Karen Solie, Jay Bernard, Paul Farley and Vidyan Ravinthiran.  Great readings in another building which has huge nostalgic connections for me – the Royal Festival Hall, a favourite haunt of mine when I lived in Elephant and Castle.  I met a poet friend in the Skylon Bar afterwards for cocktails – great views of the Thames and the best cocktails, all named after singers, directors and actors.  I had an Akira Kurosawa and my friend had a Sophia Loren!