A seven-day New Year trip to Paris to tie up a few poetic and cinematic loose ends made me think about circularity or boucler la boucle as the French would have it – a kind of "coming round full circle" or literally "looping the loop".
What particularly made me think of this was where I was staying in Paris this time – for I was truly a poet in a garrett. A teeny tiny apartment in a chambre de bonne, a maid's room, on the sixth floor of one of those crumbling grey Parisian apartment blocks gathered around a courtyard. I felt as if I were in a Marcel Carné film with Jean Gabin just about to burst in at his angst-ridden best…
If I pressed my cheek against the cold window-frame at a particular angle I could see Sacre Coeur…The flat was in Rue de Panama in the Barbès Rochechouart area, just round the corner from where I used to live thirty-six years ago. I thought of my nineteen-year-old self, how naïve I was, what a rite of passage it was to come to Paris at that age and how the only advice the grown-ups gave me was "Don't drink the water!" The whole area looks really shabby and threatening but isn't at all. My apartment block doorway above shows the run-down, gritty feel of the neighbourhood – there's a very African/Arab vibe, great street markets and an incredible energy. I particularly liked this hairdresser's window round the corner!
Paris is changing, there are more people sleeping on the streets, more begging and heartbreaking ghettos of the latest refugees appearing, the equivalent to the bad old days when we had Cardboard City on the South Bank in London. One of my friends who is living long-term in Paris has been brushing up on her Arabic and helping to run a Breakfast Club hoping that hot, sugary drinks and donated bread and nutella spread will mean that at least these destitute people start their day with some support and a shot of energy. There are so many poignant stories, the two men with young children whose wives drowned as they made the dangerous crossing to Europe… and so many, many more…
One of the themes I was exploring this time was revolution and as well as a guided walk around the Odéon area with the wonderful Paris Walks http://www.paris-walks.com/ I visited the Conciergerie where Marie-Antoinette lived her last days.
One of the best things about Paris is being able to sit in cafes where the greatest thinkers and philosophers of our age have also sat. I had a coffee in Café Procope, in the Rue de l'Ancienne Comédie, the oldest café in Paris and a real gem. This is where Voltaire, Benjamin Franklin, Thomas Jefferson, Napoleon, Rousseau, Danton (he lived nearby) and Robespierre would meet and discuss the issues of the day (not all at the same time I hasten to add as this would be chronologically and ideologically impossible!). The café owns one of Napoleon's hats which he gave to pay off a debt. One of the causes of the 1789 Revolution was debt, Louis XVI more or less bankrupted France helping out the Americans against the English in the War of Independence – without his help the War may have lasted a decade longer, but France may have been a very different place, perhaps with a monarchy still intact! There are some wonderful films which reference the Revolution (although of course, there was more than one revolution as France was beset with them throughout the 18th and 19th centuries). One of my favourites is A Tale of Two Cities – I'm a great fan of Dirk Bogarde and in this film he's a potent combination of noble and dissolute!
To continue this revolutionary theme, I went to Versailles for the day and found that I couldn't remember it at all although I'm sure I've been there quite a few times. I love the scene in Woody Allen's Midnight in Paris is when frustrated Hollywood hack Gil Pender, played by Owen Wilson, has to endure a day with Michael Sheen as an irritating know-it-all lecturer when all he wants to do is follow his flâneur instincts and just be there. Gil time travels back to the twenties and the Belle Époque and Allen's film was possibly inspired by a famous incident in 1901 when two academics, Charlotte Moberley and Eleanor Jourdain, claimed to have timeslipped back to pre-Revolutionary Versailles. My strangest encounter was with a muskrat … I did a very extensive walk in the grounds to think and write and there he was, grazing on a little island in the hameau de la reine where Marie-Antoinette lived out her peasant fantasies. I have no idea what he was doing there, presumably an escapee, but I felt I'd arrived in a parallel universe, one populated by giant rats!
I walked miles every day and wrote reams. One of the film locations I visited was Place des Fêtes just of the Rue de Belleville. This is where one of the mini-films in Paris Je T'aime takes place, directed by Oliver Schmitz, a very poignant section of this great film where different directors celebrate different arrondissements (see below). Belleville is one of my favourites. I know people who can't leave the Left Bank but it's too pretty for me, I need grit!
I also went to the Pure Café where Ethan Hawke and Julie Delpy chat in Before Sunset. I wanted to try out their impossible geography and started at Shakespeare and Co where they meet at the beginning of the film. It was great fun but took me hours (the joy of jump cuts!) so a much needed bowl of soup in this incredibly vibey local café was just what I needed.
I did another excellent walk with the amazingly knowledgeable Juliette Dubois http://cine-balade.com/ on the origins of cinema . As we strolled past the Opéra we talked about Audrey Hepburn as one of the iconic scenes in Funny Face takes place there.
Audrey made seven films set in Paris and her relationship with the city is also the story of her muse-like status with designer Hubert Givenchy. It's hard to imagine Audrey in any other clothes. I did a chocolate-tasting tour (I know, it's a hard life!) in the first arrondissement and thought about Audrey as we passed all the wonderfully glamorous shops in this area. I particularly liked the specialist cobblers next to the Christian Louboutin shop whose sole purpose (no pun intended…) is to put new red soles back on his shoes as they scuff so quickly!
A long-lasting obsession of mine is dolls (I'm not sure what an obsession is when it's negative… a phobia I guess!). I write about them quite a lot in less than complimentary terms. Strolling through Montmartre I discovered La Halle Saint Pierre and in this old market hall, which is also an art gallery, an extraordinary exhibition by Gilbert Peyre who tells engaging and unusual stories through his electronic automata. I rather enjoyed his decapitated dolls but there were other treasures too.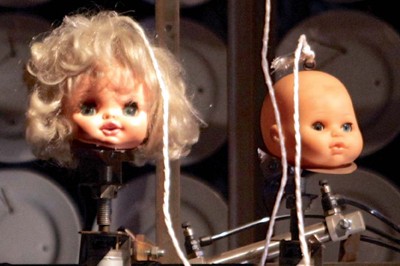 I really liked the installation Johnny Be Good where a dress shimmied and swirled and a pair of trousers shyly ducked and dived, although the peeing/flame-throwing teddy bear was rather marvellous too!
So back to boucler la boucle… In a way, my obsession with film is all about coming full-circle as well. I grew up in Kingston-upon-Thames which is where Eadward Muybridge was born in 1830 (and where he also died in 1904. Muybridge is one of the early precursors to film as we know it today and Kingston Museum opened in 1904 to show his work. Muybridge was a pretty colourful character. He moved to America in his twenties and was a successful bookseller in both New York and San Francisco. He moved back to England in 1860 to embark on a second career as a photographer. He returned to the States and established a reputation as a very proficient photographer, taking some notable time lapse photographs of the San Francisco Mint. One of his passions was capturing movement photographically, you might know some of his famous sequences such as this one below:
His growing reputation caught the attention of the Governor of California, Leland Stanford, who asked him to settle a bet. Stanford was a racehorse owner and a businessman and the bet was, namely, whether a horse has all four feet off the ground when trotting and galloping. Muybridge was able to settle the question (the answer is "yes" in case you are wondering!) by setting up a number of glass plate cameras along the track with the shutter of each being triggered by a thread as the horse passed. San Franciscans are very proud of Muybridge and I've visited the site where his studio used to be. San Franciscans lay a claim, along with so many others, to being the birthplace of film. So what happened to Muybridge? In true Wild West style he shot his wife's lover but was acquitted on the grounds of "justifiable homicide"! He carried on with his groundbreaking work of capturing motion, and that's what film is all about really – capturing still images at such a speed that the eye is tricked into registering movement. As Jean-Luc Godard said, "I want to tell the truth 24 times a second…" the number of frames our eyes process per second as we sit glued to the screen.

Well, I hope I've told the truth once a month for the thirteen months of this blog – this will be the last instalment as the Arts Council funded year draws to an end and I move on to different projects although I will always write poetry, watch films and drink good coffee in quirky cafes… And I'm sure I'll be back blogging under a different guise. So maybe this isn't Au Revoir but A bientôt…
…