I'm delighted to announce that my new pamphlet (or chapbook as my American friends call it), The Saltwater Diaries, will be coming out in September.  The collection explores my relationship with the sea, formed over the last five decades and more, and features poems mostly written since moving to a house which is a seven-minute-walk from the sea.  Many of the poems mention swimming and, as it's the season for sea swimming (well, for me, anyway, not being quite as hardy as some I know who swim all year round!) I thought it would be a good time to reflect on the joys of wild swimming.
First, a confession.  I didn't learn to swim until I was twenty five.  Why, so late?  Oh, where do I start….?  My father was a boatbuilder and spent most of his life on or by the river, but he never learnt to swim, maybe a throwback to the days when sailors considered it unlucky as, if you fell into the water, it would prolong your death.  They wanted the sea to take them quickly and cleanly.
Water is one of my earliest memories as we lived in Broadstairs when I was very young.  I have a strong memory of burying a grandparent in the sand but can't recall any details.  Perhaps this is a false memory – isn't it what everyone is supposed to do at the seaside?  One of my favourite recent films, starring the superb Billy Connolly, is What We Did on our Holiday.  It's a hilarious and touching tale of the effect warring parents can have on their children and Billy Connolly's character is indeed buried by his grandchildren at one point.
I remember nearly drowning in a public swimming pool when I was tiny, and being hauled out by the lifeguard and resuscitated.  My mother said she wouldn't take me swimming again as I'd shown her up.  I loved my pink towelling bikini even if I had nowhere to take it.
School swimming lessons didn't really teach me anything except how to dodge the floats thrown at my head by our sadistic PE teacher, Mr Fernside – it made a change from chalk…
I could swim perfectly well with armbands out of my depth so I probably could swim without knowing it.  Bizarrely, I loved the smell of chlorine and that strange echoing atmosphere of swimming pools, even the wet chaos of the changing rooms where you could never get completely dry however much talcum powder you shook over yourself and everyone else.
Not being able to swim was never an issue.  I spent a year in Israel in the 1980s and whenever a chance arose I would be pootling in water and under waterfalls, sometimes up to my neck, sometimes led into deeper water by kindly friends holding my hands as if I were an overgrown child.  Surprisingly, I wasn't particularly frightened of water despite my lack of ability.  I've swum in the Dead Sea twice, once from the Israeli side and once from the Jordanian side, once knowing how to swim, and once not. It doesn't really matter in the Dead Sea, it's so ridiculously buoyant that the only issue is how to get vertical again and get out!
Then, at the age of twenty-five, Chris and I went to Greece and he had me swimming with relative confidence on the first day.  Since then I've never really stopped, instantly developing a hunger for wild water and lap-swimming in any kind of indoor or outdoor pool.  I particularly love lidos and often swim in the wonderful Hampton lido.  On my bucket list is a swim in the Ladies Bathing Pond at Highgate/Kenwood.
One of my favourite poetry books from the last decade is Elisabeth-Jane Burnett's Swims, a haunting, experimental long poem that flows and intrigues.  There's a review here:
http://www.pennedinthemargins.co.uk/index.php/2017/08/swims/
I so want to be by the poet's side as she slips into the water and explores it.
Another ideal swimming companion would have been Roger Deakin, whose book, Waterlog, is a classic.  There's a lovely documentary which was repeated on TV recently where Alice Robert's follows in his footsteps and enjoys some fabulous wild swimming, including underground cavern swimming which looks incredibly scary.  She also discusses the differences between swimming in a wetsuit, a costume and skinny dipping.  I've only skinny dipped once in a water-hole in Arizona where you were made to feel very odd if you tried to cover up – kind of a hippy dip I guess as we were on a Green Tortoise holiday which seemed to mostly be run by people who'd come to San Francisco with flowers in their hair…  You can see the Alice Roberts documentary here:
https://www.bbc.co.uk/programmes/b00t9r28
Sadly, Roger Deakin died in 2006, so no more accounts of his watery exploits.  I love the fact that the University of East Anglia archive contains a pair of his speedos.  There's a great obituary of Deakin here, a real celebration of a life very well lived:
https://www.independent.co.uk/news/obituaries/roger-deakin-412989.html
He seems such a quintessential English eccentric, swimming in his own moat every day and breaking the rules to trespass on private stretches of river in true entitled style.  He describes his attitude beautifully here:
"Most of us live in a world where more and more things are signposted, labelled, and officially 'interpreted'. There is something about all this that is turning the reality of things into virtual reality. It is the reason why walking, cycling and swimming will always be subversive activities. They allow us to regain a sense of what is old and wild in these islands, by getting off the beaten track and breaking free of the official version of things."
In Waterlog, Deakin's inspiration for swimming around as much of the UK as he can is John Cheever's brilliant short story The Swimmer, immortalised in the 1968 film of the same name where Burt Lancaster (above) spends the whole film clad in a rather snazzy pair of belted black swimming trunks.  It's an extraordinary story which I often use in my masterclasses.  You can read it here:
https://warwick.ac.uk/fac/arts/english/currentstudents/undergraduate/20cusliterature/syllabus2014-15/cheever_the_swimmer.pdf
So, what is it about wild swimming?  It feels elemental, adventurous, invigorating (it's rarely warm!), primeval – yes, primeval is the best word – getting back to our human source – losing our ability to walk and discovering our watery roots.  We spend the first nine months of our consciousness floating in fluid so perhaps the need to be in water is part of our psyche.  Deakin clearly believes this too:
"When you swim, you feel your body for what it mostly is – water – and it begins to move with the water around it. No wonder we feel such sympathy for beached whales; we are beached ourselves at birth. To swim is to experience how it was before we were born."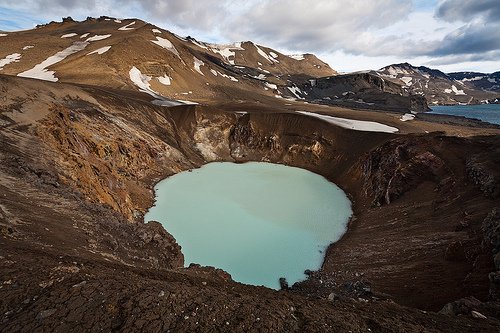 Most memorable swims?  There have been so many.  One of the most striking from a scenic point of view was swimming in the Viti crater at Askja in Iceland (above).  In fact, all the swims I did in Iceland were memorable.  The Viti crater is like swimming in thick, warm, turquoise soup.  The Blue Lagoon (below) feels as if you are swimming in some kind of weird dystopian experiment.  Swimming in Icelandic rivers  means you have to be ready for the unexpected as the river can switch from freezing to very hot in just a few yards due to geothermal activity.
I've enjoyed white water experiences in many countries, the most memorable being white water swimming down a river in Turkey towards the sea.  Not really swimming, more lying on your back in a life-jacket and pushing off as if you are on a giant, wild flume.
While trekking in the Amazon rainforest on a bird-watching trip our group took a boat across a tributary of the Amazon (don't be fooled by the word "tributary" – they are pretty wide!).  We discovered on our return that another group had taken the boat back, we could see it clearly and tantalisingly moored on the opposite bank.  We were stranded.  Some of us decided to swim across and help the guide bring the boat back to "rescue" the group, a mission we accomplished with panache.  It was only afterwards we were told that the piranha native to the river will only consume human flesh if it is already dead and dying…
Switzerland is one of my favourite places to swim.  There's a lovely outdoor wooden swimming pool on Lake Zurich, the Seebad Utoquai.  It dates from Edwardian times, as you can see from the picture above, and has a timeless elegance.  You can tell if you have swum to the middle of the lake if you see the twin spires of the Grossműnster become one.   I've also got a soft spot for the River Limmat which runs through Zurich – it's such an odd feeling to be swimming through a city and watching city business carry on as normal from such a lowly perspective! I remember walking alongside the Rhine to the Tinguely Museum in Basel and seeing commuters swim to work with their waterproof floatbags containing their workgear.
In fresh water, I love seeing swans go by, unconcerned, as I quietly tread water; clearly you are not a threat when only your head is above water. I've been lucky enough to have great crested grebes carrying their young on their backs pass very close to me.  When I swim from my local Norfolk beach I have the privilege of seeing terns dive, cormorants doing a flypast, and even the occasional skimming swallow.
Today, as I write, it's rainy and blustery, which doesn't always stop me swimming, but I've just checked the surf report and there are 8 foot waves predicted.  Last week I trod on a weever fish in bare feet (not pleasant and not the first time either!) so I'm trying to be a more sensible wild swimmer – my list of rules so far is quite short but will no doubt increase with time:  wear surf shoes, check the surf height, don't float and daydream and realise that you are farther from the shore than you should be etc
And the last, rather poetic, word has to go to the inimitable Roger Deakin:
"Swimming is a rite of passage, a crossing of boundaries: the line of the shore, the bank of the river, the edge of the pool, the surface itself. When you enter the water, something like metamorphosis happens. Leaving behind the land, you go through the looking-glass surface and enter a new world, in which survival, not ambition or desire, is the dominant aim."