At the beginning of September we spent a week in Llandudno followed by a week in Tenby to explore the Welsh coast path.  Llandudno immediately satisfied one of my requirements for the perfect seaside town, a pier, but also supplied things I wouldn't expect in a seaside town such as a surprisingly large outdoor paddling pool and excellent third wave coffee at the wonderful Providero café.  I decided another requirement might be my very first sword after discovering this unusual shop in Conwy.
The Ormes, vast projecting limestone and dolomite headlands, dominate Llandudno's classic curved bay.  The Vikings thought the headlands looked like sleeping serpents, hence the name (it's where our word "worm" comes from).  Great Orme is full of surprises, not least of which are extremely handsome Kashmir goats who pose with little smirky smiles on their faces for their close-ups.  They are right to look so supercilious for they are descended from a pair taken from  a herd owned by the Shah of Persia and given to Queen Victoria.  They may even have been there longer as it is also said that a local squire brought them over from a Kashmiri herd in France and presented a pair to George IV. 
Goats have always been shrouded in lore.  The association with the Devil is well known, as he is usually depicted with horns and cloven hooves. However, goats were also thought to bring good luck, especially to farmers. In ancient Babylon, a goat was sent to die in the desert, in order that it could carry away the diseases of the people, and the Hebraic scape goat was driven into the wilderness, taking away the sins of the Jews. The Kashmir name for the wild goat is "Markhor", which means "Snake eater" and goats are believed to kill adders by trampling on them and afterwards eating the remains. And it gets stranger…
The tradition of having goats in the military originated in 1775, when a wild goat walked onto the battlefield in Boston during the American Revolutionary War and led the Welsh regimental colours at the end of the Battle of Bunker Hill.  Another Welsh military goat, Taffy IV, served in the First World War.  William "Billy" Windsor I is a Kashmir goat from the same bloodline as the Great Orme herd although he was born at Whipsnade Zoo.  He served as a lance corporal in the 1st Battalion, the Royal Welsh, an infantry battalion of the British Army from 2001 until 2009, except for a three-month period in 2006 when he was demoted to fusilier, after inappropriate behaviour during the Queen's Official Birthday celebrations (headbutting a drummer) while deployed on active duty with the battalion on Cyprus. On retirement he was replaced by a wild goat from the Great Orme herd.
Another day, another walk, this time in the Conwy Mountain area where we met some of the feral Carneddau ponies which inhabit this beautiful landscape.  Of course, they have a story too.  Four hundred years ago Henry VIII ordered that horses unable to carry a knight in full armour should be culled.  These ponies escaped due to their remote habitation and are now thought to be unique.  They are sweet-natured and quite relaxed when it comes to being photographed.  I don't think Henry's men would have any problems capturing them today!
This area was truly intriguing.  We visited a bronze age mine, sat in a druid stone circle and marvelled at the weird concrete knuckles which form the sea defences at Llandulas – they could easily be acclaimed as an art installation.  We fell in love with tiny St Trillo's Chapel by the beach at Rhos on Sea.  It only seats six and may well be the smallest church in the British Isles, complete with its own spring-fed well.
And so on to Tenby where I could indulge my love of all things Dylan Thomas.  It's possible that the first time Thomas aired Under Milk Wood in public was at Tenby and District's Arts Club in 1953.   I love the 1974 film version of Under Milk Wood with Richard Burton as First Man, Elizabeth Taylor as Rosie Probert and Peter O'Toole as Captain Cat.  Burton was a drinking buddy of Dylan Thomas and there's a very bad poem by Burton on the wall of Brown's in Laugharne – Thomas's local during his on-off residency in this lovely place.  I was struck by the number of Welsh speakers I was hearing and the wonderful musicality of the language which, combined with the unique voices of the preachers of his childhood, certainly influenced Thomas's own sonorous reading voice.
There's a really good little museum in Tenby which has a room dedicated to Augustus and Gwen John, the artistic siblings, who were brought up in Tenby – "so restful, so colourful, so unspoilt" was Augustus' very favourable verdict. Below is Gwen John's Landscape at Tenby with Figures, painted at the end of the 19th century.
Dylan Thomas famously stole Caitlin Mcnamara from Augustus John in 1936 when the artist foolishly introduced him to his young mistress.  Augustus John would have been 58 and Caitlin just 23.  There are stories of John chasing Thomas around the castle grounds at Laugharne when he caught him smooching with Caitlin in the car…  John and Thomas were regular drinking buddies so it clearly didn't damage their relationship too badly…
Appropriately enough, in a glass case on the stairs of the museum are a rather fabulous pair of Dylan Thomas's trousers in a grey-blue and white stripe with a rather swashbuckling sailor cut.  They were presented to the museum by Elizabeth Bowen whose father bought them from Dolly Long, Thomas's housekeeper in Laugharne.  The trousers were stopping the rain coming in through an attic door and Dolly had no compunction about selling the souvenir to Dr Bowen.
Laugharne is still such a beautiful, unspoilt place and it's well worth visiting The Boathouse where Thomas spent the last four years of his life with Caitlin and the children and pressing your nose against the window of Dylan's Writing Shed a little further up the lane. The view over the estuary from The Boathouse is extraordinary – swathes of glistening water, quiet herons and such intense light.  "Off and on, up and down, high and dry, man and boy, I've been living now for 15 years in this timeless, beautiful, barmy (both spellings) town…" said Dylan of Laugharne. One of the first people to rent accommodation to Thomas was Richard Hughes, the author of High Wind in Jamaica who lived in grand Castle House and kept a very good wine cellar.
We did the Dylan Thomas birthday walk which has extracts from "Poem in October" to read at various breathtakingly lovely viewpoints.  It's such a moving, contemplative poem, richly satisfying to read.  Here's the first stanza:
It was my thirtieth year to heaven
Woke to my hearing from harbour and neighbour wood
   And the mussel pooled and the heron
           Priested shore
       The morning beckon
With water praying and call of seagull and rook
And the knock of sailing boats on the net webbed wall
       Myself to set foot
           That second
In the still sleeping town and set forth.
It always makes me sad to read this poem and think that Thomas only had another nine years to live.  He died at the age of 39 and, I know it's a cliché, but oh, all those unwritten words…  Dylan and Caitlin are buried together in the new graveyard at St Martin's Church in Laugharne.  I loved walking around this pretty town, thinking about all the characters who inspired Under Milk Wood, although of course New Quay was also a huge inspiration and the film was shot in Fishguard, which seemed to fit the concept of Thomas's Llareggub perfectly.  Thomas is very much a poet of place, steeped in the sounds and sights of Wales.  Do have a look at A Dylan Odyssey which is a lovely book containing essays by writers, artists and family members, all exploring the effect of Thomas's surroundings on his work.  Oh, and if it happens to be your birthday (and you can prove it!) and you decide to do the birthday walk on that day,  then you can claim a range of freebies including a pint at Brown's and coffee and welshcakes in  Cafe Culture as well as free entry to The Boathouse.  You do have to recite "oh may my heart's truth still be sung " every time but it's a small price to pay!
Tenby was clearly the place to be if you were a writer.  George Eliot found literary inspiration in the town and also fell in love with George Henry Lewes there. Roald Dahl visited Tenby as a child every Easter, fondly recalling donkey rides, clifftop walks and the boat to Caldey Island.  He loved it so much he brought his own children there too.  Dahl's Oslo born father had emigrated to Cardiff to seek his fortune in the 19th century coal boom.
It's fascinating that the whole concept of the seaside town happened because 18th and 19th century wars meant the great and the good couldn't go on their Grand Tours so the UK suddenly became a destination, followed swiftly by the craze for seabathing.  Originally the men would bathe naked but then were obliged  to bathe at one end of the beach only until a bell was rung at 8am!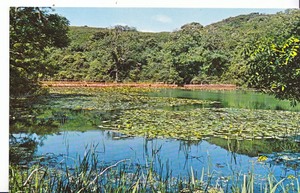 I wrote a great deal while we were in Tenby.  We walked, over several days, from Bosherston's massive lily ponds to the wide sands of Pensarne, via the quirky castle of Manorbier, passing extraordinary jagged cliffs, the odd blowhole, booming caves, bobbing seals, military bases, cromlechs and moors.  We had torrential rain, gale force winds, rainbows and such strong sunshine I got my first peeling nose since I was a girl!
I also realised how many Welsh poets I have on my bookshelves and what a brilliant contribution they have made to the canon.  So many poets with such an enviable facility with words: a lilt, a cadence, a turn of phrase that I would love to emulate – R S Thomas, Gillian Clarke, Dannie Abse, Samanth Wynne Rhydderch and Owen Sheers whose heartbreaking film-poem The Green Hollow, is a tribute to the survivors of Aberfan starring many stellar Welsh actors such as Jonathan Pryce, Eve Myles, Sian Phillips and Michael Sheen.
Every year, at Christmas, we listen to Cerys Matthews' evocative recording which weaves together Swansea memories of Christmas from elderly residents with my favourite out of all Dylan Thomas's writing,  A Child's Christmas in Wales.  This year it will have even more poignancy.