I'm just back from two weeks in West Wales where heavy rain in the first week meant I had plenty of writing, reading and editing time!  We did get out for a walk more or less every day but had to be satisfied with short, local walks – it's not a pleasure to walk in saturated waterproof clothing and nil visibility. Fortunately, our lovely property in New Quay had the most amazing view.  We spent hours watching the light changing on the water and rainbow after rainbow arcing across the rain-swollen skies.
Dylan Thomas lived in New Quay for a year or so (1944/45) during one of the coldest winters on record.  It was a very productive time for Dylan's writing and the town played a large part in informing the characters and places in Llareggub, his fictional fishing village in Under Milk Wood.  Dylan also had magnificent views from his bungalow, Majoda, just north of the town.  In his verse letter 'New Quay' sent to Tommy Earp in 1944, he describes the scene:
'I sit at the open window, observing
The salty scene and my Playered gob curving
Down the wild umbrella'd and french-lettered
Beach, hearing rise slimy from the Welsh lechered
Caves the cries of the parchs and their flocks……'
Vera Killick, a friend from Swansea days, lived near Dylan, Caitlin, and baby Aeronwy.  Vera's husband was an army captain and often away on active service.  Captain Killick, on his return from service in Greece, was not comfortable with his wife's friendship with her bohemian neighbours.  His feelings came to a head one night in March when he encountered Dylan and his friends in a local pub.  A fight ensued and was broken up, Dylan and his friends headed back to Majoda where, a short time later, Killick proceeded to attack Majoda with his service weapons and grenades.  Killick was tried for attempted murder but acquitted thanks to his exemplary military record.  Dylan and Caitlin were much disturbed by this event and told their friends that they now went to bed under the bed!  The events were made into the film The Edge of Love, starring Keira Knightley, Sienna Miller, Matthew Rhys and Cillian Murphy.
Here's a still of Rhys and Miller as Dylan and Caitlin: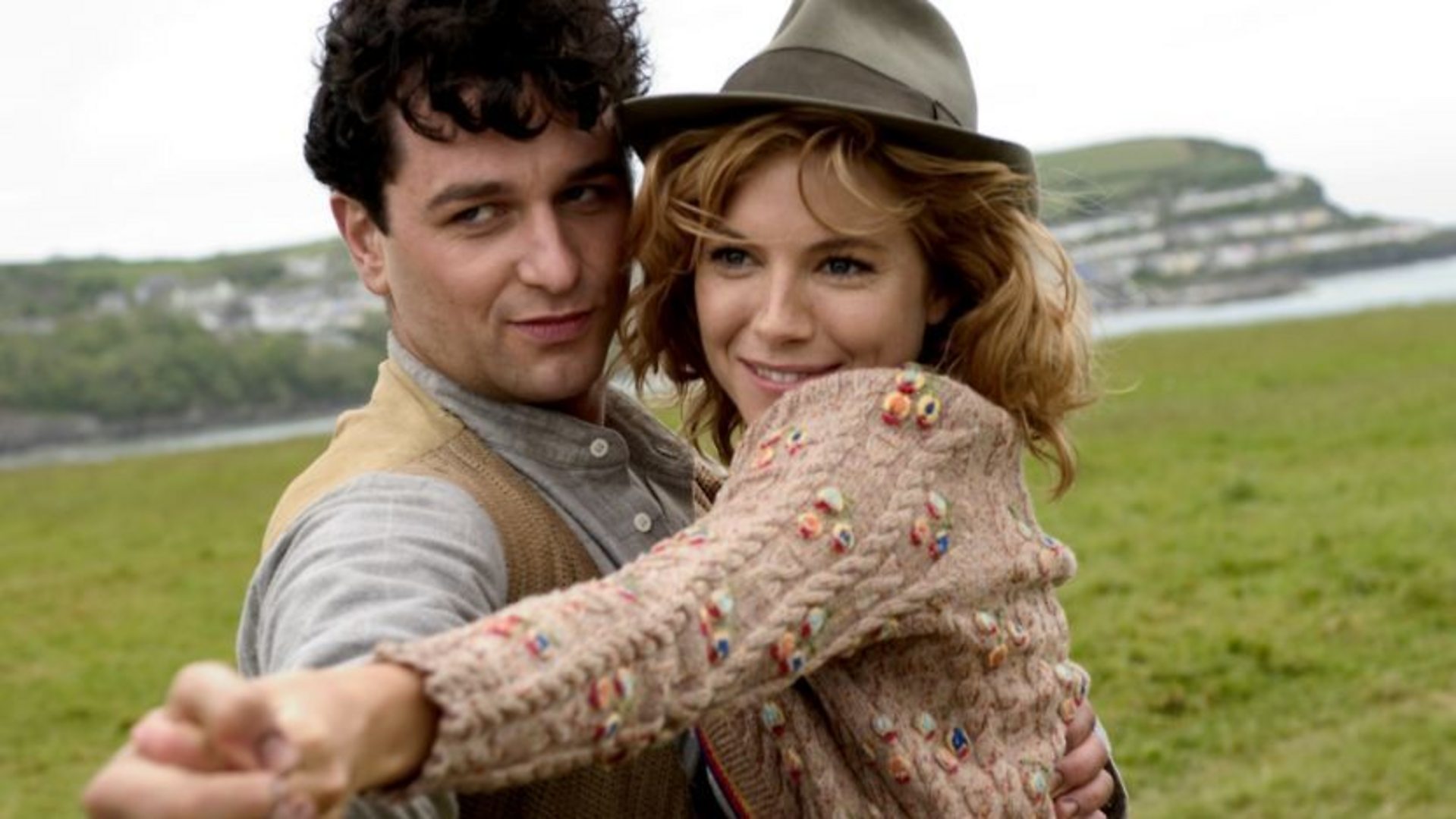 New Quay is much changed since Dylan's time.  When it came to filming Andrew Sinclair's 1972 version of Under Milk Wood, starring Richard Burton, Liz Taylor and Peter O'Toole, New Quay didn't make it as a contender for the village and instead nearby Lower Fishguard was used as Llareggub. We had some great beer in The Black Lion, Dylan's favourite local watering hole, which he described as a 'Pink washed pub…..waiting for Saturday night as an over-jolly girl waits for sailors.'  Now it sports some very evocative black and white photographs of the pub in his day and Dylan drinking both there and in The White Horse Tavern – a longshoreman's bar in New York.
Another Dylan haunt, The Blue Bell, is now a coffee bar and restaurant.
I was pleased that our walk to Abaeraron (where the local specialty is ice cream flavoured with honey…) incorporated Llanina Sands where Dylan "hoofed with seaweed, did a jig on and barked at the far mackerel."  Under the waves there's a drowned cemetery which Dylan claimed was "the literal truth that inspired the imaginative and poetic truth of Under Milk Wood."
And yes, I did write a Dylan inspired poem; it's hard not to when in Wales!
During the gaps in the rain we discovered some lovely coves and saw bottle-nose dolphins in the bay on several occasions. They are in Cardigan Bay all year round, surprisingly the Bay has the largest population of dolphins in Europe. It's such a privilege to watch their slow, sinuous progress – I wonder if they ever speed up?
Our second week was spent in a farm cottage near St David's.  The owner's grandfather, Bertie Griffiths, had been the last person to successfully farm on Ramsey Island in the 1930s/40s.  The owner's father, Elfed, had spent most of his childhood on the island and had written a fascinating book of his memories.  It was such an isolated existence.  They had to use Morse code to communicate with the mainland and anything they needed, including livestock, was brought by boat.  Pigs had to be floated over on barrels so their trotters wouldn't cut their throats as they swam.  Sheep got a boat ride so their woolly coats wouldn't get saturated and pull them under.  Horses and cows would be lashed together and persuaded to swim across.  French fishermen would come ashore and exchange lobsters for rabbits.  During the war there are stories that the crew from German submarines came ashore in the dead of night for fresh water and the odd lamb…  During the week Elfed went to school on the mainland and communicated with his parents by carrier pigeon.  Often the weather was too bad for him to return home, or, if he was lucky, too choppy to make the crossing back to school!
We took a trip to the island and it is a magical place.  It's managed by the RSPB and only two boatloads are allowed to land each day.  We were too late in the year to see the colonies of sea birds, but the seals were pupping and there were bundles of cream, white and dappled fur yapping for food on every beach.  There are plenty of rabbits still on the island, descendants of those bred for meat and fur.  There is one rather noble white Welsh pony who cantered obligingly around when we looked down from the highest point of the island, occasionally stopping and posing like the star of a Disney film.
The island is also known as St David's Island (the word Ramsey might come from the wild garlic which grows on the island).  I loved discovering the legends about some of the saints connected with the area, and there are many of them!  St Elvis baptised St David and yes, there is a group trying to find out if Elvis Presley (Presli?) has Welsh connections.  David's mother was St Non and there's a ruined chapel dedicated to her near St David's.  But best of all is St Justinian.  He was David's confessor but didn't like the lax ways of St David's monastery (although St David allegedly lived on leeks and water which doesn't sound very profligate to me!), so he decided to set up on Ramsey Island which was, at that time, linked to the mainland by a causeway.  Justinian hacked the causeway with an axe to complete his isolation, but as he got closer to the island his axe got blunter and he left the chunks of rock which are known as the Bitches and line the route to the island's tiny harbour.  Justinian's monks mutinied, finding him too austere, and cut off his head.  Justinian walked over the water, back to the mainland, carrying his head.  When he laid it down a spring flowed from that place.  His murderers were struck down with leprosy.  A veritable 6th century soap opera!
Here's the picturesque lifeboat station at St Justinians (yes, where he put his head…) where you pick up the boat to Ramsey:
Just across the fields from our farm cottage, out on the peninsula, a group of archaeologists were excavating an Iron Age fort.  As we walked sections of the coast path that week we saw many earthworks (covered), so it was fascinating to see the outline of a fort being uncovered.  While we there they had just found a hearth and evidence of metalworking.  The coast path is stunning, almost unphotographable in its majesty.  My favourite section was Trefyn to White Sands.  Near the beginning of the walk you pass the beautiful Blue Lagoon at Abereiddi.  The lagoon is in a former slate quarry and it's the slate which gives the water such an incredible colour.  There are many former industrial buildings on this section of the path.  Porthgain, on the way to Abereiddi, was a small but important port in the local quarrying industry.  Almost every harbour, however small, had limekilns.  These coastal kilns served the local farms.  Limestone would come in on the ships, be crushed and burnt and then carted off to the fields to keep the land fertile.
Pembrokeshire is a strong Welsh-speaking area and it was wonderful to hear this lilting, poetic language and see it on the road signs, timetables, menus etc.  I had some very scenic swims, my favourite was the very cold water of Caerfai Bay – as I floated I could see across to the isle of Skomer.
One of my favourite harbour villages has to be Solva.  It's got picture postcard prettiness but also shock value as, whether you approach from the east or the west, it's so tucked into its deep cove that you don't see it until the last minute. If you go there, head straight to Mamgu Welshcakes – they make their melt in the mouth welshcakes themselves – sweet and savoury – unmissable!